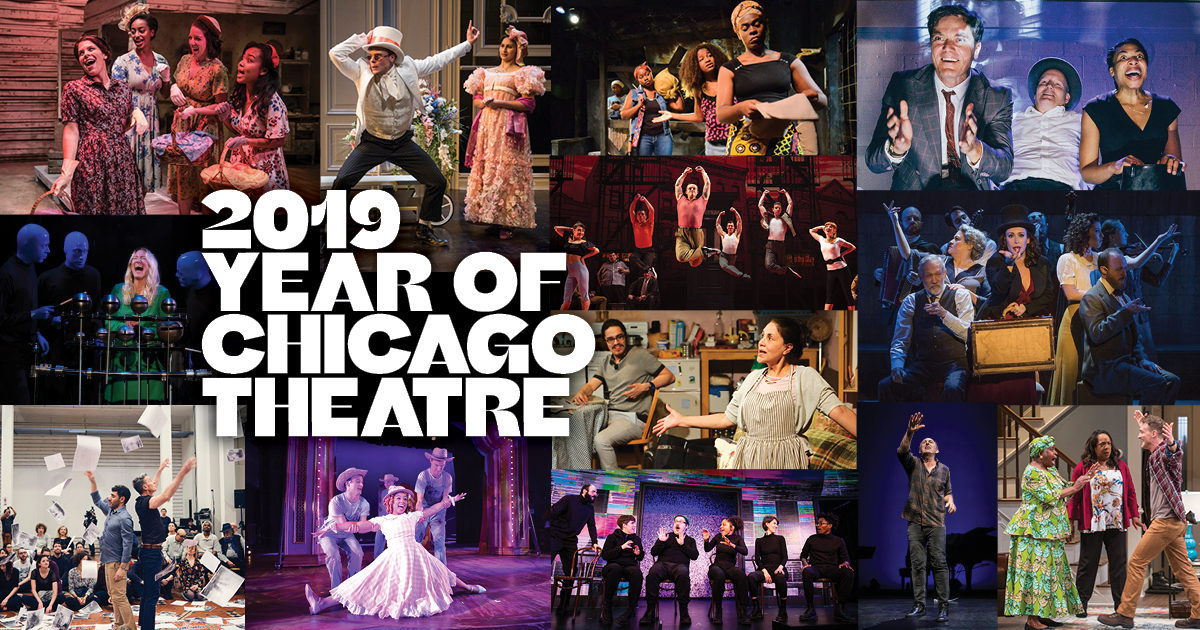 We are thrilled to be part of the launch of the "Year of Chicago Theatre", helmed by the Department of Cultural Affairs & Special Events (DCASE) Commisioner, Mark Kelly.
Mark joined us to talk about this first-ever City initiative that is "calling on the world to recognize the power of Chicago Theatre." Partnering with the League of Chicago Theatres and all of the individual theatres, the goal is: "to be a Chicagoan, you are welcome into a Chicago Theatre."
From the City's press release:
"To truly fall in love with Chicago, you must go to our theaters. This is where the city bares its fearless soul. From joy to heartache and every feeling in between, Chicago theatre tells stories that evoke big emotions. Stories that take risks, inspire awe, ask tough questions – and dare audiences to do the same. Through Broadway musicals or storefront plays and improv, the energy of the city comes alive in our theaters. And with a diverse collection of over 250 dynamic theaters throughout our neighborhoods, there's always a seat waiting for you…The Year of Chicago Theatre will also encourage dialog within Chicago's theatre and philanthropic communities around inclusion and equity issues – and will seek to expand the geographic scope of Chicago theatre, especially on the city's south and west sides."
We also welcome to the show an important member of the theatre community, actress and director Sandra Marquez. Most recently we saw her brilliant direction of Isaac Gomez's play, "La Ruta" (episode 89) and her wonderful performance in Jen Silverman's "The Roommate" with Ora Jones. Marquez is a longtime member of Teatro Vista, the only equity Latino theatre company in the midwest. She has also been a member of the Steppenwolf Theatre ensemble since 2016. She is on the faculty at Northwestern University, teaching acting and voice. She is in rehearsal to play Nora in Steppenwolf's production of "A Doll's House, Part 2". Previews start Jan. 31. Can't wait to see her in this.
Hear Sandra and Mark's takes on what makes theatre here so special. "We are doing new work all the time, everyone supporting and pushing each other to do gutsy and innovative work…We have more world premieres than anywhere else."
Chicago Theatre Week is coming up from Feb. 7 – 17, with theatres of all sizes offering tickets from $15 to $30. Click on this link for a complete schedule of some really great shows.
Learn about Mark's fascinating job at DCASE, which presents theatre, music, art, and other mostly free cultural events to 28 million people annually and awards grants across a wide spectrum of the arts. One of his goals is to encourage more support for the vitality of Chicago arts organizations, financially and otherwise.
Hear some fascinating stories about Mark and Sandra's backgrounds and other interests. As in Mark is a drummer and Sandra once tried to join a convent. And you don't want to miss Mark's story about pretending to be a celebrity so he could sit in the actual Booth One at the Pump Room back in the day.
Kiss of Death: Marc Hauser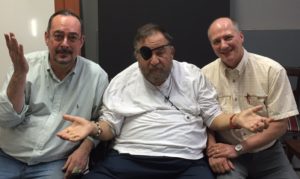 World-renowned photographer Marc Hauser was a friend and a guest on our show. Read about him in Mark Brown's excellent obituary for the Chicago Sun-Times, which surprisingly quotes Marc's Booth One interview. He was a remarkable talent and character. We will all miss him. Here is a link to our interview with him. If you check out the show notes, you will see several of his iconic images. The photo above is Marc with Gary and Roscoe in his studio.