In the heyday of the Pump Room at the Ambassador East Hotel here in Chicago, Booth One was the most sought after seat in the house, as the privileged celebrities and other luminaries (check out the amazing list here) who were seated there could be seen from the lobby, the bar and the rest of the room.  A place to see and to be seen.*
On our BOOTH ONE podcast (formerly known as TalkSports), host Gary Zabinski and his rotating co-hosts and guests engage in the art of lively conversation as we attempt to revive that feeling of being in the best seat in the house. We talk about our recent "Booth One" encounters with brilliant artists, celebrities, world-class events, and behind-the scenes experiences.  Our Booth One conversations cover a variety of topics, including current events and the esoteric. We also send our hosts to some of the more exotic places and events in this great metropolis and beyond, looking for Booth One-type experiences to share with our listeners.
Anything is fair game on BOOTH ONE, reflective of the kinds of conversations that must have taken place in the legendary Pump Room's first-class seating.  Be a fly on the wall we attempt to recreate the magic, mystery and mischief of the BOOTH ONE experience for your amusement and edification.
Send us photos and descriptions of your Booth One experiences and we'll share them with our listeners on the podcast and here on the website. Your reservation to BOOTH ONE is waiting!
*The original Booth One from the '40s is on display in a wonderful exhibit at the Chicago History Museum called The Secret Lives of Objects.  There is a colorful replica in the theater at the UP Club at Second City.
Gary Zabinski (Host):
Gary's career in the entertainment industry spans four decades as a producer, director, venue manager and promoter in theatre, music, dance, opera, cabaret and comedy.
He has an Actors' Equity card from his days as a professional stage manager and emergency performer on and off-Broadway and in the legendary Chicago theatre community.
His passions include golf, the American Musical Theatre, Stephen King, the US Supreme Court, cooking for friends, red wine, the Cubs, the Blackhawks, and a frosty half volka/half gin martini (a "OO7").
Gary is the product of a well-rounded education from a slightly obscure Midwestern liberal arts college. And the school of hard knocks. His friends refer to him as The Gangster.
Betsy Ingram (Producer):
Betsy has worked in Chicago theatre as a producer, director, actor, and general manager. She currently works with the company that oversees production for concerts and events at Pritzker Pavilion in Millennium Park. Past positions include founder and Artistic Director of the Thresholds Theatre Arts Project, General Manager for Chicago Shakespeare Company, Producing Director for New Crime Productions, and Executive Director of Blind Parrot Productions.
She directed The Remembered City featuring Tony Fitzpatrick and Steve Earle, which was performed as part of the Traffic Series at Steppenwolf Theatre then was selected to be presented at the Galway Arts Festival. She is the president of Booth One Productions, a nonprofit arts organization that produces this podcast as well as theatre projects such as the world premiere adaptation of Stuart Dybek's The Coast of Chicago, co-produced with Kristan Schmidt and Walkabout Theatre, presented at Loookingglass Theatre. Betsy is a graduate of Stanford University.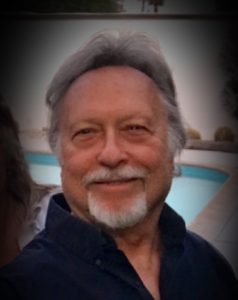 Frank Tourangeau (Co-Host):
Frank's life has been spent in the arts and in arts education; teaching, performing and directing both at the high school and college level. After getting a BA in English from Elmhurst College and an MA in Theater from the University of Illinois, he started teaching at University High School in Normal, IL where he coached the speech team there to three consecutive IHSA state speech championships. He then moved back to the Chicago area and taught at Fenton High School in Bensenville, running the Speech and Drama Dept. His 5 years there culminated in a state championship in speech and a few weeks later a state championship in drama, a feat that has been unequaled.
After taking time off to get a Ph.D from Southern Illinois University, he began teaching and directing at College of DuPage in Glen Ellyn, IL where he directed such productions as Jesus Christ Superstar, Long Day's Journey Into Night, Hair, Little Shop of Horrors, A View From the Bridge, Summer and Smoke, Dames at Sea, The Elephant Man, ER, Grease, and where he coached the C.O.D. speech team to 5 National Championships.
He has now become somewhat of a world traveler with recent trips to Cuba, Turkey, Russia, Montenegro, Norway, the Faroe Islands, Spain, Iceland, among others. Plans for later this year include Prague, Krakow, Budapest, Vienna, Viet Nam, Hong Kong, Thailand and Singapore. Frank is married and lives in the Chicago suburbs. He goes way back with our producer and has many many stories!!!