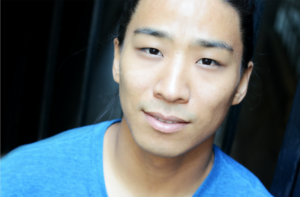 Aerialist, circus performer and actor Javen Ulambayar visits Booth One this week with Gary and Frank, as we celebrate our 3rd Anniversary on the air!
Javen is a native of Mongolia and emigrated to the United States when he was 17 with his parents. His mother is world-famous contortionist Oyunchimeg "Oyuna" Yadamjav, one of Mongolia's most decorated contortionists, winner of the Silver Clown Award at the International Circus Festival of Monte Carlo. Javen became interested in the circus arts only after moving to the US, where he first studied at the famous Circus Juventas school in St. Paul, MN. After receiving a degree in Kinesiology from the University of Minnesota, Javen continued his training and has been hooked on circus performance ever since.
Now a resident of Skokie, IL and a faculty member at the famed Actors Gymnasium in Evanston, Javen's specialties are the Straps and the Chinese Pole. He put both these skills to remarkable use while performing in the Lookingglass Theatre's production of Moby Dick. Javen was integral to incorporating circus arts into the production, working with Moby Dick's choreographer Sylvia Hernandez-DiStasi and Lookingglass director, David Catlin. Sylvia and David have both been featured guests on Booth One.
Gary and Frank discuss the new Antoinette Nwandu play Breach, which they just saw at Victory Gardens Theatre. Nwandu describes the play as "a love letter to black women." From the author of the recent Steppenwolf play Pass Over, Nwandu's Breach is a funny, moving and revealing look at the life of a young black woman as she navigates the ups and downs of relationships and life. With marvelous and memorable characters, she takes us along as Margaret "recovers from self-hate" (from the sub-title). Beautifully staged by director Lisa Portes, Breach cements Nwandu's reputation as one of America's best emerging playwrights. She recently won the 2017-2018 Paula Vogel Playwriting Award. This production runs through March 11 and is highly recommended. Listen to a great interview with Antoinette and Pass Over Director Danya Taymor on episode 59 of Booth One.
Honorable mention goes to the August Wilson Monologue Competition, held at The Broadway Playhouse at Water Tower Place. The regional competition is open to all students from Chicago Area High Schools. Producer Betsy Ingram reports that all 21 competitors were stellar! The number one and two finishers will be competing in the National Finals held at the August Wilson Theatre on Broadway on May 7 and are open to the public. Best of luck to these two wonderful performers who will represent Chicago. Friend of the show and previous guest Robert Cornelius coached Chisom Chima, who finished second and he is ecstatic for her.
We break out the Chat Pack for a couple of rounds of probing questions.
Kiss of Death:
Rick McKay, Who Documented Memories of Broadway.
Mr. McKay recorded hundreds of hours of interviews with dozens of actors about their recollections of New York theater, turning them into the 2004 documentary "Broadway: The Golden Age, by the Legends Who Were There". Click here to see the remarkable list of people he interviewed. McKay was a convivial, sympathetic interviewer, getting stars like Bea Arthur, Shirley MacLaine, Carol Burnett and Angela Lansbury to open up about their lives, always making it about them and their stories. Rick McKay was 62.