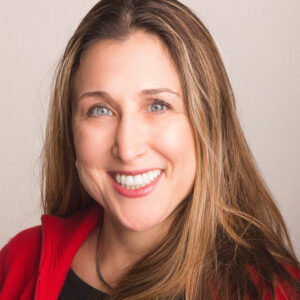 We were thrilled to have Erica Daniels Strater join us in the Booth, starting our next 100 episodes off in style! She has been an agent, casting director, Associate Artistic Director, president, and now Executive Director. All at top-flight companies.
Erica has so many dear friends in the Chicago theatre community. She helped us all out when we were with small companies who needed casting help and couldn't afford our own casting directors. Her email response would come back pronto with a list of really great suggestions for a role. Early in her career, she joined her close friend and mentor, Martha Lavey, in choosing to make the effort to pay attention to smaller companies and emerging talents and to lend a hand up.
A graduate of Northwestern University with a degree in Performance Studies, she studied with an amazing group of artists, including Martha Lavey, Frank Galati, Mary Zimmerman and Dwight Conquergood. When she graduated and was planning to start auditioning, Erica broker her foot. While she was recuperating, she thought maybe she could help out in a casting director's office. She worked in Jane Brody's office, then Shirley Hamilton's, two of the best casting people in Chicago. Then, after an exciting stint as the Theatre Department coordinator at William Morris in New York, she went to work for Steppenwolf as their in-house casting director. She was then promoted to Associate Artistic Director and did a wonderful job in that capacity while continuing to do their casting.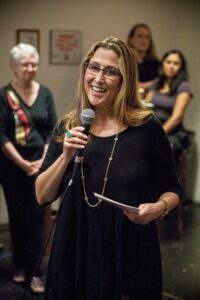 She is providing great leadership at Victory Gardens, collaborating with her partner, Artistic Director Chay Yew. Erica is eloquent about Victory Gardens' mission to "be a leader in developing and producing new work and cultivating an inclusive theater community." We have seen so many marvelous productions there, most recently, Tiny Beautiful Things. Erica and Chay were listed as #1! in New City Stages' feature: Players 2019: The Fifty People Who Really Perform for Chicago..
Gary talks to Erica about getting her start in the business, what she looks for in an actor, the audition process, working with directors to cast just the right actor for the role, and what challenges an Executive Director of a Tony Award-winning Chicago off-loop theatre faces on a daily basis. You'll find Erica to be eloquent and forthright in her responses. Just a joy to have as a guest in the Booth.
Kiss of Death:
Franco Zeffirelli, Italian director with a penchant for excess. Renowned for his extravagantly romantic opera productions, immensely popular film versions of Shakespeare and an active and sometimes controversial social life. Wiki tells us he was one of the only living people traceably consanguineous with Leonardo da Vinci. Mr. Zeffirelli was 96.