Wardell Julius Clark and Regina Victor are stars who just keep growing in our Chicago theatre community. We had an amazing time talking with them recently about all of their adventures. They are work and life partners and as Gary said, "extraordinary creative artists and human beings." They also did a beautiful job introducing the show. Voice over agents, take note.
Regina Victor works as a theatre director, producer, dramaturg, arts journalist, and mentor. Regina is a non-binary femme who grew up in Oakland, now residing in Chicago. Regina attended boarding school at Phillips Exeter, then studied theatre, religion, and dance at Santa Clara University. They have worked with and been mentored by, among others, Phylicia Rashad, Anna Shapiro, Raelle Myrick-Hodges, and Danya Taymor. Victor has helped develop world premieres by Antoinette Nwandu (Breach:…), Brett Neveu (To Catch A Fish), Sarah Ruhl and Morgan McNaught (A Persephone Pageant), and Loy Webb (The Light, His Shadow). Regina will be direct a world premiere of Pro-Am at Sideshow in May. They have recently been named to be the first Associate Producer ever at Court Theatre.
Regina founded an arts criticism platform called Rescripted in 2017. Rescripted's mission is "to reprogram the way we critically engage with each other using an empathetic lens, while cultivating critics and adding new voices to the field." It is a collective of artists who engage with each other's ideas and opinions openly. Regina mentors young critics through a program called The Key, which has produced some terrific new critics. It is produced in partnership with the Chicago Inclusion Project and is hosted by Steppenwolf Theater Company.
Wardell Julius Clark was raised in Fairfield, Alabama, where he toured the country as a child with the amazing Sparkle Dance Company. Read about their mission and programs here. He went on to audition for DePaul University's acting program, which is extremely competitive. He got in to the program, didn't get cut, and has been working here in Chicago ever since. He was a very successful actor for the first 10 years of his career, then asked Ron OJ Parsons if he could assist him on directing Gem of the Ocean at Court. He tells a wonderful story about his first (triumphant) directing gig on Insurrection at Stage Left. Next up was Wardell's hugely acclaimed production of The Shipment. He has been booked as a director since…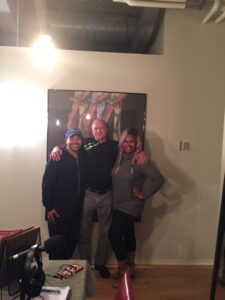 We recently saw and were blown away by His Shadow, which Wardell (with Sydney Charles) directed, with Regina serving as Dramaturg. It was truly not to be missed. The good news is it was recorded for the archives at Harold Washington Library, so you can see it there.
Wardell is a company member at one of our all-time favorite companies, TimeLine, and is a member of their amazing Living History Education Program.
Regina is working on a wonderful project at Lyric Opera called "Empower Youth".
More to say about these upcoming projects, but can't wait to publish their episode. So come back to this site for updates.