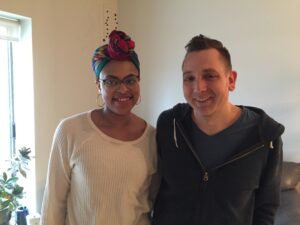 Gary welcomes director Jonathan Berry and actor Jessica Dean Turner from the new hit play Red Rex to the Booth today. Written by Ike Holter as the newest in his Rightlynd series of plays, Red Rex is is receiving a world premiere by Steep Theatre and is being presented in their 55-seat space at 1115 W. Berwyn through March 30. Gary called it "one of the most moving, thought-provoking and beautifully produced plays he's seen in many a season."
The production is about members of a Chicago storefront theater company who are working on a new play being presented by a Chicago storefront theater company. Jonathan discusses the meta nature of directing this project at Steep, where he's been an ensemble member for many years, having directed there since 2007. Jon describes one of the themes of the play: "The theatre community can create its own center of focus, obscuring, entirely, the actual world just outside the door."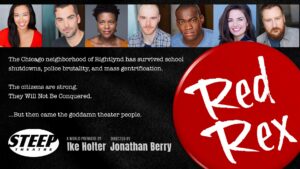 Jonathan and Jessica talk about the play's other themes, including equity and inclusion, inadvertent and subtle acts of racism, shining a light on the pretentiousness of some creative processes, and the deep humor and humanity with which Ike Holter treats each of his characters. It's a discussion that will make you want to run, don't walk, to the see Red Rex at the Steep.
Jessica talks about her theatre training in the very intensive program at the University of Illinois – Urbana, and how the rigorous nature of the program prepared her for the life of a working actor. As a non-Equity actor striving to make a career in the burgeoning off-Loop theatre scene, Jessica is frank in her assessment of the challenges and struggles that entails. The commutes are long, the pay is low, and the competition is steep(!) But Jonathan and Jessica both emphasize what most audiences already know – the Chicago style of acting exemplifies a fierceness and passion fueled by the daily grind that is the nature of a life in the theatre.
Gary offers a play idea with the news story of 183 Amtrak passengers stranded for 37 hours in a snowstorm in the Oregon wilderness. Jonathan has been on plenty of delayed Amtrak trips and describes the mounting stress among the passengers as "a Lord of the Flies mentality." The dramatic possibilities are endless!
Jessica also teaches at the Chicago High School for the Arts (ChiArts), training young performers. ChiArts is a public 4–year college preparatory visual and performing arts high school located in the Humboldt Park neighborhood. Operated by the Chicago Public Schools district, the school opened for the 2009–10 school year. She's also worked as an actor-patient at Northwestern Medical School where she helped train doctors to treat a variety of conditions and symptoms. A great acting exercise.
Kiss of Death:
Ethel Ennis – Celebrated Singer Who Walked Away from Fame:
Ms. Ennis was a highly respected jazz singer in the 1950s and 60s. Ella Fitzgerald stated that Ms. Ennis was her favorite young vocalist, and Frank Sinatra called her "my kind of singer". But Ethel grew disillusioned with the demands placed on young divas, and she eschewed national celebrity for a quieter life in her hometown of Baltimore, where she earned the unofficial title of Baltimore's "First Lady of Jazz." Ethel Ennis was 86. Read the full NYTimes obit here.
Check out her beautiful rendition of My Foolish Heart on YouTube.