Gary welcomes to the Booth two true Chicago theatre professionals – both long-time stage managers at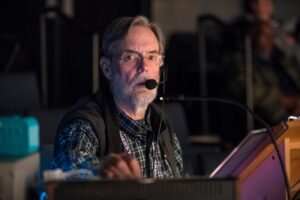 Steppenwolf Theatre – Malcolm Ewen and Laura Glenn. No one has better behind-the scenes stories than great stage managers. Malcolm has been at Steppenwolf since 1987 and was most recently welcomed into the company's elite Ensemble, an honor he didn't even know was possible. He is the first stage manager to become an ensemble member. Malcolm has taken 4 shows to Broadway, including The Grapes of Wrath and Who's Afraid of Virginia Woolf, which were both honored with Tony awards. He has also stage managed at the Goodman, Northlight, and Remains Theatres, among others. He has directed at the Weston Playhouse Theatre in Vermont during summers for 30 years.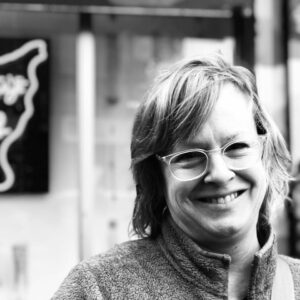 Laura has been with Steppenwolf for 25 years with an impressive resume of memorable shows including Buried Child, Superior Donuts, and The Rembrandt. From her Actor's Equity bio: "I was fortunate enough to work with and be mentored by many great stage managers, including my hero, Malcolm Ewen. I have been a part of world premieres, great revivals, taken shows to international festivals and Broadway – both with Steppenwolf and my other creative home, Northlight Theatre."
Laura and Malcolm address the age-old question, "What does a stage manager do?", with wit, sincerity and personal insight. As Gary well knows, having started his career in the theatre as a stage manager in New York, being an SM involves a myriad of responsibilities, including establishing a safe and collaborative space in which the actors and director can feel free to create, fail and try new ideas. There are also the tangible elements of scheduling, communicating, and upholding the Actors' Equity rule book, which Malcolm describes as jigsaw puzzle work.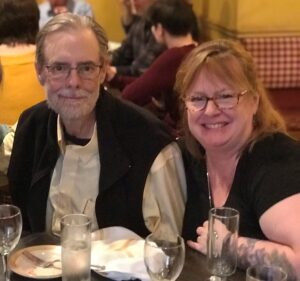 The two colleagues and dear friends reminisce about past show experiences, including some of their most satisfying and rewarding projects – Bruce Norris' Downstate for Laura and Albee's Who's Afraid of Virginia Wolff for Mal.  Laura talks about the special bond she had with the late John Mahoney. As a teacher of stage management, Malcolm has reminded his students to find their own rewards and reasons for individual achievement in a profession that can have very few accolades or public job recognition. Laura likens stage management to being a catcher on a baseball diamond. While you direct the traffic on the field and may even call the no-hitter, it's likely most people will not see your face behind the mask.
Malcolm discusses his most challenging project to date – Paul Simon's Broadway musical The Capeman. This 1998 Broadway show was a commercial and critical failure, and Gary compares it to his experience on the ill-fated Peter Allen musical Legs Diamond. The three stage managers recall how the most stressful projects are the ones where the many elements that go into making a stage piece either don't come together or were ill-conceived from the start. Large casts and financial risk are also contributing factors.
In our "Good Times and Bum Times" segment, we learn about the ex-wife of a man who declined to take him back even after he won the $275 million Mega Millions lottery. "I have morals," Eileen Murray said. Then there's the story of the man who tried to strangle his Lyft driver for singing out-of-season Christmas songs. Silent Night indeed!
Everyone loves to hear stories of theatrical near-disasters and Malcolm, Laura and Gary have their share of tales to tell. From The Grapes of Wrath (41 actors for starters) to John Malkovich in a scenery train wreck, these stories bring to light the backstage trials and tribulations of stage management and production. And they're hilarious to boot!
Gary announces the 2019-20 Steppenwolf season of shows, which contains two basketball-themed plays, as well as a world premiere musical called Lindiwe featuring the music of Ladysmith Black Mambazo. Malcolm and Laura will both be working on that project, directed by friend of the show Jonathan Berry.
Finally, Gary asks Malcolm about his sobriquet "The King of Broadway." The story behind how he got this nickname is on par with the great backstage theatre anecdotes of all time. Thank you, Terry Kinney!