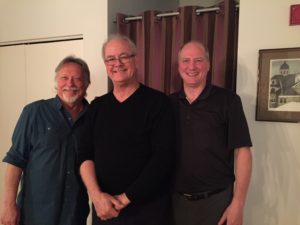 Gary and Frank welcome one of the finest actors we've ever had the pleasure to meet to Booth One! Francis Guinan has been with the Steppenwolf Theatre ensemble since 1979 and has appeared in a remarkable number of shows. Check out the list of past productions on his Steppenwolf bio. We have seen many of them and his work is simply not to be missed.
Speaking of not to be missed…he is currently appearing in a world premiere of Pulitzer Prize winning playwright Bruce Norris's Downstate alongside a breathtaking ensemble cast. Beautifully staged by Tony award winner Pam MacKinnon, it is a co-production with the National Theatre of Great Britain and stars several actors from there, including the marvelous Cecilia Noble. The Steppenwolf ensemble members (Glenn David, K. Todd Freeman, Francis Guinan, and Tim Hopper) are all just astonishing. Our good friend, Laura Glenn is Downstate's fabulous stage manager. The production will travel to London in the spring of 2019. Here are a couple of Downstate production shots:
Fran's first show with Steppenwolf was The Real Inspector Hound. Learn more about his illustrious career there in this article from 2009. One of our favorite recent performances was in The Rembrandt, working opposite his dear friend, the late John Mahoney. Of his relationship with John, he told us they had worked together s0 often and that their 30 years of shared history was "present in every glance." Fran said John was immensely generous on stage and off…Check out this Chicago Tonight interview with John and Fran talking about the last show they would do together.
A shot with the the great Audrey Francis in You Got Older: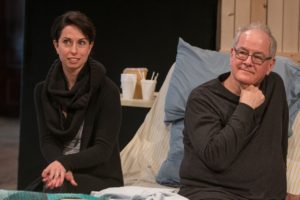 Francis talks about the magic that only happens in a theater. How sometimes you can say a line to an audience of 300 or more people and then there is total silence. A collective holding of breath. And that feeling is not like anything else. He talks about the vibrance and truth of the Chicago style that goes back to the Compass Players. He thanks "the Godfather of Chicago Theatre, Sheldon Patinkin for teaching so many people in our community to "Always Say Yes." That it's not about you. It is all to the benefit of the story. Whatever your fellow actor throws out there, accept it and play that moment, even if it's very different from the night before.
Kiss of Death: Carol Hall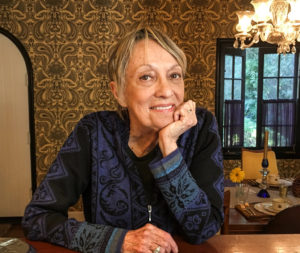 Carol Hall, a songwriter who wrote the music and lyrics for "The Best Little Whorehouse in Texas", which was about a brothel called the Chicken Ranch (because customers often paid with chickens), died on October 11 at age 82. Here is an excerpt from her NYT obit:"Staying behind the scenes remained her preference. She wrote three songs for "Free to Be … You and Me," the 1972 children's album (and television special) conceived by Marlo Thomas. One was "It's All Right to Cry," performed by Rosey Grier, a former professional football player. She also wrote for Sesame Street and Barbra Streisand.