Gary and Frank catch up and discuss a couple of recent theatrical viewings. First off, we get an inside look at Frank's eastern European trip which took him away from Booth One for a couple of episodes. He tells of his experiences in Warsaw, Krakow, Prague, Vienna and Budapest, how the architecture and city centers have changed, and why Prague is one of the most stunning cities he's ever visited. He is grateful to friend of the show and two-time guest, Stuart Dybek, for his great suggestions for things to do in Prague. He also let us know that Warsaw is booming and beautiful.
While on the continent, Frank sampled a Porn Star Martini, ate at iconic local restaurants, and ogled the naked people on building facades in Prague. Other than Vienna, the entire trip was a bargain and the direct flights on LOT between both Warsaw and Budapest & Chicago made travel a breeze. A trip that Frank highly recommends.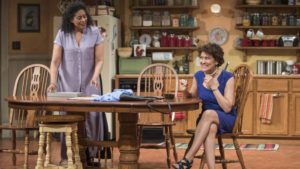 The boys visited the Steppenwolf Theatre to view their new main stage show The Roommate, featuring knock-out performances from Ora Jones and Sandra Marquez, both Steppenwolf ensemble members. Written by the up and coming and very talented playwright Jen Silverman and directed by Phylicia Rashad, The Roommate is a comedy/drama centered around two women who become housemates somewhere in Iowa. Gary and Frank share their thoughts and opinions on the play, and suggest that it is perfect summer fare for those seeking a great night out at the theater. The Roommate runs through August 5.
We discuss writer-performer Amanda Duarte's Guide to Theater Etiquette. Standing, talking, eating, drinking, clapping and cell phones are among the topics she shares her opinions on in this New York Time Out article. Enjoy.
Next up is our take on The Cher Show, which recently had its pre-Broadway tryout here in Chicago at the Oriental Theatre. Containing 35 hit songs and a flurry of thrilling Bob Mackie gowns, this biographical musical gives us three versions of Cher – Babe, Lady and Star – at different points in her life and career. Played by three actresses – Micaela Diamond (in her professional debut), Teal Wicks, and the always amazing Stephanie J. Block – the show is framed as a TV special being made about Cher's life. The three "Chers" interact with each other throughout, even having musical numbers as a trio, something Gary found to be an oddly disconcerting choice by the writers. Nevertheless, the opening night audience was very responsive and cheered wildly at many of the show's high points and at the curtain call. By the way, Jarrod Spector as Sonny is marvelous.
Both Frank and Gary feel there is a bit of work to be done by the creative staff prior to the November 1 preview at the Neil Simon Theatre in New York. But they agree that they were highly entertained and that the show has great promise. Especially considering the box office success of the current Summer – The Donna Summer Musical now on Broadway.
Kiss of Death:
Gillian Lynne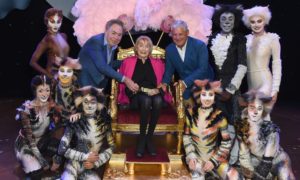 – Choreographer of Cats and The Phantom of the Opera
The renowned British ballerina who turned choreographer created the sinuous dances in Andrew Lloyd Webber's Cats. Gillian Barbara Pyrke began dancing at an early age and by 15, was dancing at the Ballet Guild, whose artistic director gave her a new surname. She appeared in films, onstage and on television throughout the 1950s, and choreographed The Roar of the Greasepaint – the Smell of the Crowd in 1965 on Broadway. This past June, the New London Theater, where Cats opened in 1981, was renamed for Ms. Lynne. She was carried to the stage on a golden throne surrounded by dancers from the musical. Gillian Lynne was 92. Read the full NYT obit here.