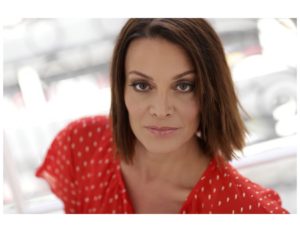 The endlessly fascinating Jennifer Engstrom graces us in the Booth today. Jen is a long-time ensemble member of A Red Orchid Theatre (as is our last guest, playwright Brett Neveu). She has appeared in over a dozen productions there and at many other great Chicago theaters (as well as in productions in London and New York). She grew up on a farm outside of Huxley, Iowa and made her way to the big city via the College of DuPage theatre program, where she soon became active in the speech department. And who coached and encouraged her in a career in the performing arts? None other than our own Frank Tourangeau! Frank was a professor and head of the speech department during Jennifer's time there and served as her mentor and teacher.
Frank relates how he cast her in the play Whose Life is it Anyway? as the lead made famous on Broadway and the West End by Tom Conti, and revived some years later with Mary Tyler Moore in the starring role. By all accounts, Jen was luminous in the part. BTW, when Gary was working in Emanuel Azenberg's office, he was a stand-in for Tom Conti for several rehearsals on the Broadway production.
In addition to her numerous acting roles, Jennifer has had an interesting career as an understudy around Chicago. We discuss her going on as Blanche DuBois at the last minute in a Writers Theatre production of A Streetcar Named Desire, directed by David Cromer. Though she knew the blocking and the lines well, her costumes had not been finished and there was a mad scramble to devise a proper wardrobe track for that performance (which Gary and producer Betsy were privileged to see!). She also stepped in for Amy Morton in the Steppenwolf Theatre production of Taylor Mac's HIR when Ms. Morton turned her ankle on stage prior to the first preview. Jennifer had learned all the lines and after a rushed blocking rehearsal, kept the curtain up for the first preview audience in stellar fashion. To quote the wonderful stage manager, Laura Glenn, "She was a total professional and I was so grateful she was there."
Among Jennifer's favorite playwrights are Tennessee Williams, Edward Albee and newcomer Jen Silverman, whose play Witch will get a world premiere production at Writers Theatre in the fall.
Two items of show biz interest – The Play That Goes Wrong is closing on Broadway in August. One of the most hilarious shows that Gary and Frank have ever seen, a national tour is scheduled so don't miss this gem of a show if it comes to your town. And the five-and-a-half hour adaptation of Roberto Bolano's mammoth novel 2066 can be seen on streaming video soon. In an unusual arrangement, a filmed version of the Goodman Theatre's production will be available free, unlimited streaming for at least two years. Frank was a big fan of this production. You may have to watch in installments given it's extraordinary length, but you're unlikely to see another production of it anywhere any time soon.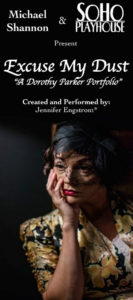 Jennifer has created and performs a one-woman show called Excuse My Dust, A Dorothy Parker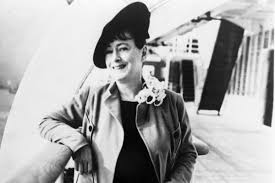 Portfolio, in which she embodies the writer and humorist in an evening of theatrical monologues from Parker's writings. Dorothy Parker was an original member of the Algonquin Round Table and a unique coiner of the cutting remark. Gary and Betsy are going to the Red Orchid spring fundraiser at which Jennifer is performing selections from Excuse My Dust. More to report on our next episode.
We play a little Chat Pack with Jennifer and find that she would like to be a rock star for a month, a la Beyonce. And people often ask her how she learns all those lines!

Kiss of Death:
Anne V. Coates, Admired Editor of Acclaimed Movies
One of the most celebrated film editors of her era, Ms. Coates won an Oscar for her work on Lawrence of Arabia directed by David Lean and starring Peter O'Toole. The film editor's craft is often called "the invisible art," but is one of the most vital ingredients in the alchemy of filmmaking. "Lawrence" contains one of the most celebrated editing moments in the world, involving an onscreen juxtaposition of the kind known as a "match cut". Indeed, the edit involves an actual match and flame. Look for it in the first half hour of the film. Our favorite obituary writer and friend of the show Margalit Fox has crafted her usual stirring profile for the New York Times. Read the full obituary here. Anne V. Coates was 92.