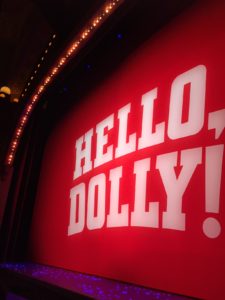 Mentor, Educator and Theatre aficionado Frank Tourangeau (Episode 54) returns and joins Gary as this week's co-host in the Booth. Gary and Betsy have just returned from a glorious Thanksgiving week in New York, and we recount the shows we saw and get Frank's take on his recent Broadway experiences.
In addition, we look in on the Chicago theater scene with such shows as Escape to Margaritaville (the Jimmy Buffett musical); Tracy Letts' new play at the Steppenwolf Theatre, The Minutes; a local Victory Gardens production of Fun Home; Significant Other at the Theatre Wit; and A Red Orchid Theatre's production of Wallace Shawn's Evening at the Talk House.
But back to Broadway – we first tell about seeing Donna Murphy, Bette Midler's alternate, in the splendid and beautiful Hello,Dolly! Frank and Gary both agree that this is one of the finest productions of a classic musical they have ever seen, regardless of who's playing the lead. The Band's Visit, recently opened at the Barrymore Theatre, elicits slightly conflicting opinions from Gary and Frank – Gary was a bit underwhelmed from his front row seat, while Frank from the mezzanine found the show charming and very moving. They agree that it may have been a difference of perspective.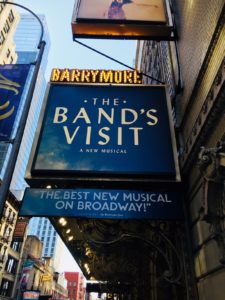 Other New York shows we discuss are Time and The Conways with Elizabeth McGovern; Torch Song starring Michael Urie and a luminous Mercedes Ruhl; and the unseen but well-reviewed revival of Once on This Island by Flarety and Ahrens.
Frank tells us about his experiences at Film Festivals (he goes to a lot of them), like Toronto and Telluride. And he relates a brush-with-greatness story about running into Meryl Streep while standing in line to see one of her latest pictures. The Golden Globe nominations will be out just after this episode publishes. Gary and Frank talk about their choices for front-runners.
Christmas in San Diego will bring Frank close to one of his life-long dreams – SUMMER: The Donna Summer Musical, now playing at the La Jolla Playhouse. LaChanze stars as Diva Donna in this pre-Broadway engagement. Frank's excitement for this show is audibly palpable!
Kiss of Death:

Jim Nabors – Goofy Gomer on The Andy Griffith Show and Gomer Pyle – U.S.M.C
Nabors, a native Alabaman, found an entertainment niche playing clubs like The Horn in Santa Monica in the 1960s, with an act that mixed folksy Southern charm with a rich and unexpected baritone singing voice. Andy Griffith decided he would be perfect for a new character on his already-hit show, and Gomer Pyle, cousin of Goober, was born. Gomer proved immensely popular with the viewing public and appeared on and off for four seasons before being given his own show in a spin off. He later hosted a variety show on CBS, showcasing his splendid voice with songs like The Impossible Dream from Man of La Mancha. Mr. Nabors lived in Hawaii for nearly thirty years and owned a macadamia nut ranch in Hana on Maui. Jim Nabors was 87. Read full obituary here.