C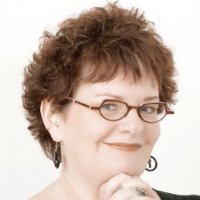 hill out with a mid-summer edition of Booth One!
Gary's good friend and storyteller extraordinaire Julia Maish joins us in the Booth this week. Julia is Manager of Media Relations for WTTW and WFMT and has worked as an actress and jazz singer in Chicago.
We ask Julia about her early days working with The Second City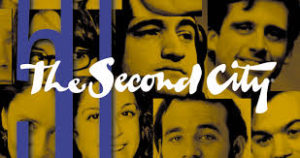 . She was the sole administrative employee when she was there and tells an hilarious story about how on her last day, her boss swept all the cash from the safe into a paper bag to compensate her for the many vacation days she never took. A dramatic and thoughtful gesture.
Though she never had the desire to jump into the improvisation scene, Julia made a fine career out of doing scripted theater with the likes of Frank Farrell and Paul Sills. She relates her experiences with site-specific Shakespeare and the physical demands and dangers of acting. Also the 24-hour Shakespeare Marathon, the first of its kind in Chicago.
Julia talks about her meeting President Barack Obama on several occasions, including during his run for Senate. At a debate organized by Julia, Obama arrives late and is ascended upon by a gaggle of press. There is apparently a photo of Julia and the aspiring senator out there somewhere, but alas, a lengthy search proved fruitless. Listeners, please forward to us if you should come across it.
For many years, Julia was part of a vocal jazz trio know as Three A.M., and later changed to Moonglow. Her suggestion to the group that they change their name again to Cakes Men Like (from a cookbook title that was given to her by a friend) was met with little enthusiasm.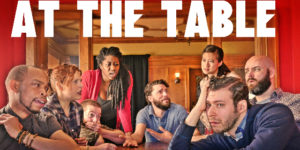 Gary praises a marvelous new play called At The Table, produced by Broken Nose Theatre Company at the Den Theatre. It's one of the finest examples of ensemble acting we've seen in a long while, and though the extended production is sold out through its current run, this fine piece is sure to find a long life in regional theaters across the country. Broken Nose is a "pay-what-you-can" company, where you set your own ticket price, which makes seeing this great work affordable for many more people. You can read the rave reviews of the play here.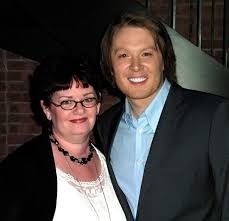 After falling for his voice on American Idol, Julia spent many years as a Clay Aiken fan, traveling the country to see him in concert with a group of like-minded Aiken-ites. She fell into this group almost by accident, but after seeing nearly 40 concerts, and ten performances of Spamalot when Aiken was in the Broadway cast, she grew to appreciate his talent, showmanship and wit. Julia was selected to read one of her stories on stage several times during various Aiken performances, and by all accounts stopped the show with her rendition of the time her dress caught on fire while performing with Moonglow. Gary recalls seeing Julia do her story at the historic Genesee Theatre when he booked Clay some years ago. It was a memorable performance. Watch for Clay in the next Sharknado movie on the Syfy Channel.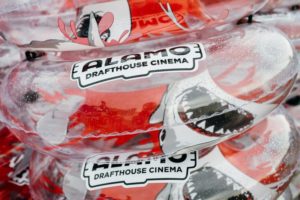 On a related note – you can now see the 1975 Spielberg thriller Jaws on the big screen – while sitting in a shark-logo inner tube at night on an inky-black lake in Texas! It's the ultimate test of nerves and shark-phobia, fulled by food and liquid refreshment, including local beers. Probably not something that Gary is willing to do anytime soon. Jaws on the Water is presented by the Alamo Drafthouse at Volente Beach Water Park outside of Austin. Tickets are $55.
Speaking of stories, Gary asks Julia to read one of her other stories on the air – a piece called Kissing Frogs and Other Amphibians. It's a recollection of Julia's varied dating history, particularly of the blind type. Funny and touching, it's a good example of Julia's insight and attention to detail that make her storytelling so compelling.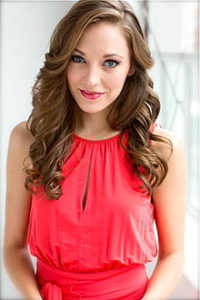 Don't miss this season's Grant Park Music Festival Broadway event, A Broadway Romance, July 21 & 22. Gary will be doing the pre-concert presentation before each performance of this musical journey through love and relationships, where his guests will be Musical Director Ted Sperling, and Broadway stage stars Laura Osnes (pictured at left) and Santino Fontana.
Kiss of Death:
Sheila Michaels – Midwife to the popularization of the honorific "Ms." In the 1960s, Sheila Michaels was seeking a title for a woman who did not "belong" to a man. She first came across the term after seeing it on the label of a Marxist publication addressed to her then roommate in New York. When Sheila mentioned the little-known term Ms. on a radio program, Gloria Steinam heard the broadcast and adopted the term for her new magazine that debuted in 1971. Ms. Michaels leaves a legacy both minute and momentous: two consonants and a small dot – three characters that forever changed English discourse. Read Margalit Fox's full NY Times obituary here.