Gary welcomes actor, director, producer, choreographer, casting and teaching professional Stephen
Schellhardt to the co-host chair of Booth One this week. Longtime listeners to the program may remember Stephen as a panel guest when we recorded our all-things Sondheim Episode 38 before a live audience at Writers Theatre. His recent production of Urinetown received glowing notices. See a review here. Stephen will next be seen as Melman the Giraffe in Madagascar The Musical at Chicago Shakespeare Theatre, directed by friend of the show, episode 57 guest Rachel Rockwell. More details.
Stephen is about to begin a position at Northwestern University where he'll be teaching Musical Theatre. We're going to put that knowledge to the test in this Episode 60!
Gary and Producer Betsy just returned from a whirlwind trip to New York City where they saw 6 Broadway shows in 5 days! Here's a rundown of the cavalcade: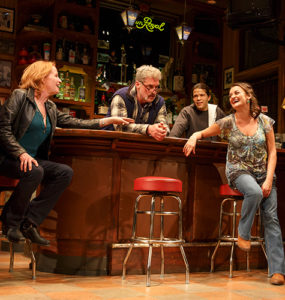 Sweat – Terrific play with a fine ensemble cast. Khris Davis! This show will have a lot of legs on the regional circuit with one set and important timely subject matter. Sadly, the 2017 Pulitzer Prize-winning play just closed in NY, but it will have a long and profitable life after Broadway.
Natasha, Pierre & The Great Comet of 1812 – Lavish, interactive spectacle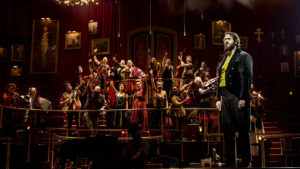 of a production, but we found it curiously un-engaging, despite having the best seats of our trip. Gary never found the emotional heart of the piece, though the last 20 minutes are very moving. Still, it's a long slog to get to those final moments and it's not a show we can highly recommend, except for the fact that you'll not see anything else as lavish as this anywhere, and Josh Groban is exceptional as Pierre.
A Doll's House, Part 2 – Laurie Metcalf deserves all the acclaim she's received fo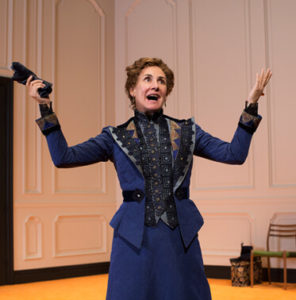 r this performance in Lucas Hnath's imaginative sequel to Ibsen's classic. The rest of the cast – Jane Houdyshell, Chris Cooper and Condola Rashad, all nominated for Tony's – round out this genuinely entertaining and thought-provoking dramedy. Maybe a bit too short and some unexplored themes, but it's for Metcalf that one should see this particular production. Gary likens her star turn to what it might have been like to see Hepburn or Davis on the stage in their heyday. A true American theater treasure!
The Little Foxes – Seeing Laura Linney and Cynthia Nixon in this searing Lillian Hellman play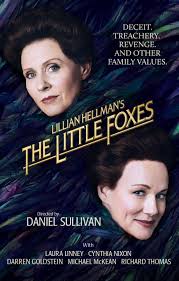 was to see acting at it's finest. Perfectly cast and superbly staged, Gary and Betsy were also very impressed by Richard Thomas and Michael McKean's performances. We saw the version for which Linney and Nixon were nominated – Regina and Birdie respectively. Stephen comments that the two actresses believe this combination plays against their types. That's what acting is all about, and what a pair of powerhouse actors they are! As of this publication, this show is also now closed, but it's a theater-going memory that will live in our minds for a long time to come.
Come From Away – Words cannot describe the heartfelt joy and spontaneous enthusiasm this show engendered in us. It's a musical that shouldn't really work, given its subject ma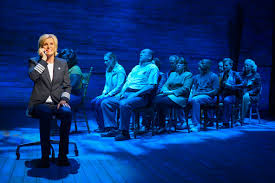 tter and minimalist plot. But it was perhaps our favorite show of the whole trip. This as well will play beautifully in "the provinces", and crowds should certainly adore it as much as the one on the night we saw it. A terrific score and fantastic staging. With a cast of ordinary-looking townsfolk and air passengers, the show utilizes just a single stationary set (with a small turntable), a couple of tables and a dozen or so chairs. When it comes to your town, run, don't walk to experience this gem of a musical! The cast album is on repeat in Stephen's car!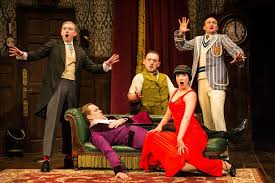 The Play That Goes Wrong – For sheer fun and entertainment, here was a show that we went to on a whim with half-price tickets from the TKTS Booth. This play features a great ensemble of physical comedy actors and a set that fully deserves its Tony Award for Best Scenic Design. Hilarious from beginning to end, with audience interaction the rival of Natasha/Pierre, Gary envisions another long life for this show.
Our trip was capped off by scoring Booth One seats at the famous Joe Allen for Tony night!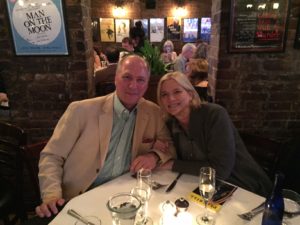 We were treated royally and had unobstructed and uninterrupted views of the entire ceremony on large screen monitors. If you ever want the ultimate Tony experience (without actually being there), try Joe Allen some year.
Stephen and Gary discuss the recent Shakespeare in the Park production of Julius Caesar, where the title character was costumed and made-up to resemble a Trump-like figure. Many outcries and protests ensued, with some protesters being forcibly removed from the venue. It's a fascinating example of life imitating art imitating life. Stephen welcomes the conversation and the engagement. Read here what actor Cory Stoll, who played Brutus, has to say about his experience.
Gary has found a kindred spirit in his fear of sharks in Stephen Schellhardt! Unbelievably, Olympic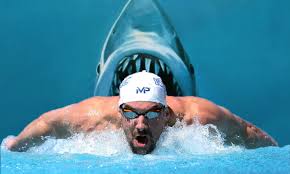 swimming legend Michael Phelps is slated to race against a Great White Shark on the Discovery Channel's Shark Week programming. It should be no contest, as sharks have been clocked at 25-30 miles per hour. Phelps is probably closer to 5. No telling what the decorated medalist is thinking. Hope they're not in the same pool! Watch the hilarious trailer.
Kiss of Death:
Peter Sallis, Voice of "Wallace and Gromit" cartoons. Read his obit here.
Mr. Sallis brought genial eccentricity to the voice of the cheese-loving Wallace in a series of Claymation stop-motion animated films, from 1990s "A Grand Day Out" to " "The Wrong Trousers" to "The Curse of the Were-Rabbit" in 2005. His voice has been described as a "welcome pair of warm slippers in an uncertain world." Born in Twickenham in 1921, Mr. Sallis got the acting bug while serving in the Royal Air Force and may be best known in England for the 37 years he spent as a star of the BBC sitcom "Last of the Summer Wine," in which he played one of three older gents. Peter Sallis was 96.