Booth One welcomes the amazing Rachel Rockwell to our studios amidst her action-packed schedule.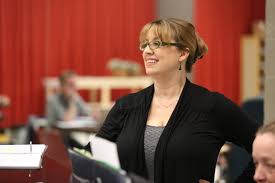 Her beautiful production of Shakespeare in Love has just opened at Chicago Shakespeare Theatre, and she has about a million other irons in the fire.
As a choreographer, Rachel was nominated for Joseph Jefferson Awards for The King & I (2007) and A Chorus Line (2011). As a director, she received Jeff Award nominations for Miss Saigon (2009); The 25th Annual Putnam County Spelling Bee—Best Musical (2009); Ragtime (2010) and 42nd Street (2011). For her acclaimed Drury Lane Oakbrook Theatre production of Ragtime (11 Jeff nominations and seven awards), she received the Joseph Jefferson Award as Best Director of a musical. As Director, Jeff Award nominations (2012) for Best Director and Best Musical: The Sound of Music and Sweeney Todd at Drury Lane Oakbrook Theatre; and Best Play: Enron at Timeline Theatre Company. In 2013, her production of Oliver! received a Jeff nomination for Best Musical. In 2014, she received Jeff Award nominations (Director, Choreography and Best Musical) for the revival of Brigadoon at The Goodman Theatre and Les Miserables at Drury Lane Oakbrook. Her production of Brigadoon was named Best Musical and she was named Best Choreographer for that production. She won the Jeff Award for Best Choreography for her production of Billy Eliot in 2015. In 2016, she won the Jeff Award as Best Director for her production of Ride The Cyclone at Chicago Shakespeare Theatre.[22]
She has directed notable Children's Theatre productions at Chicago Shakespeare Theater. At CST, she also choreographed productions of The Merry Wives of Windsor, Romeo and Juliet, and Measure For Measure. Since the mid-nineties, Rockwell has directed and choreographed dozens of productions for such theaters as: Steppenwolf, Chicago Shakespeare Theatre, Drury Lane Theatre Oakbrook, Marriott Theatre Lincolnshire, Paramount Theatre, Noble Fool Theatricals, Fox Valley Repertory, Apple Tree, The Little Theatre on the Square, SIU Summer Theatre and McCleod Summer Playhouse.
Rachel is also working on writing and developing new musicals. Look out world!!! Booth One has a couple of ideas we may be passing by her desk.
Rachel is the third musical genius to come on our show who hails from Indiana. Beckie Menzie and Danni Smith, both past guests and friends of the show, cultivated their talents in the Hoosier State. We're wondering what's in the water over there!?
Rachel credits her success to a long line of mentors and teachers, including Buzz Miller, who danced Bob Fosse's brilliant choreography in the seminal "Steam Heat" on Broadway and in the film of The Pajama Game.
Rachel was Dance Captain in Mamma Mia on Broadway and the National Tour, and she gives us some backstage insight about what a difficult and important job this is.
She choreographs in her car(!) and counter-clockwise in her living room to avoid the coffee table. So yeah, kind of a genius. Deb Acker, the production stage manager at Chicago Shakespeare, says Rachel is the most prepared director she's ever worked with. Rachel tells us why she prepares so thoroughly.
Gary and Rachel talk the 2017 Tony Award nominations and Rachel particularly recommends Come From Away.
Martha Lavey,  a mentor to us all and a huge force in the Chicago theater community, is our Kiss of Death segment this week. There are no words. But these journalists come close:
Hedy Weiss for the Chicago Sun Times
Chris Jone for the Chicago Tribune