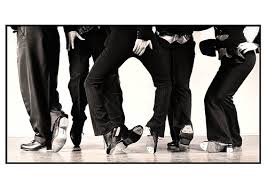 April Fools' Day finds us recording our 55th Episode! Returning friend of the show Paul Stroili co-hosts this toe-tapping episode with Gary in Booth One. Paul reveals that he is a motorcycle enthusiast and that his father once raced motorcycles in Europe. Riding a "Hog" is a skill that Gary has long wanted to acquire, though driving a Vespa is probably closer to his ability levels of balance and coordination.
Paul gives an update on his hit interactive theatrical production of Tony n' Tina's Wedding. Some cast changes are in store, at least through the summer, and the good news is that the show continues to sell strongly and bookings are being confirmed for well into the fall of 2017. Congratulations to the entire Tony n' Tina's team and best wishes for a long and prosperous run!
Our friends at Broadway In Chicago made sure that both Gary and Paul got to see the recent Circus 1903 spectacular at Chicago's Oriental
Theater, and they loved both the production and the talented performers. Some of our favorites are Ringmaster Willy Whipsnade (David Williamson), aerialist Lucky Moon (Elena Gatilova), The Cycling Cyclone (Florian Blummel), Elastic Dislocationist Senayet Asefa Amare, and juggler extraordinaire Francois Borie.
The highlight of the show are the life-size faux elephants, manipulated by a team of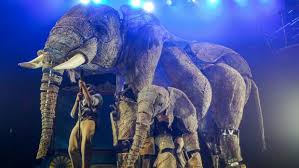 expert puppeteers and designed by the same folks who brought War Horse to life on stage. These pachyderms are so life-like and majestic that you can feel the awe and amazement from the crowd. Their presence, and the focus on the artistry and athleticism of the performers, make this nostalgic homage to the golden age of circus a wonderous experience for young and old alike. Check out the Circus 1903 website for their touring itinerary and don't miss this performance if it comes to a city near you.
On a sadder note, producers of the long-running musical The Fantasticks have announc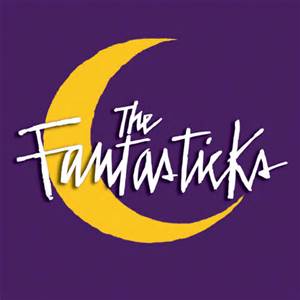 ed its closing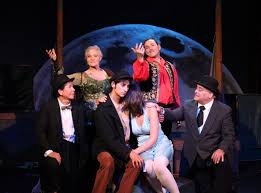 in New York….again! Seems that the money from anonymous donors that has kept the show alive the past couple of years has run out and ticket sales are flagging. This is one of Gary's favorite shows, so if you plan to be in New York before June, try to catch this landmark musical before it closes. Who knows? Your ticket purchase may just contribute to another extension of this beloved show. You can buy tickets here.
Speaking of contributions – if you want to support the Booth One mission of bringing you the best in the art of lively conversation and fascinating guests, go to our DONATE button on this web page and you can make a fully tax deductible donation to our cause. It's quick, it's easy, and it would be deeply appreciated by all of us at Booth One. Including Gary's imaginary teacup pig support animal. Down, Jeanette!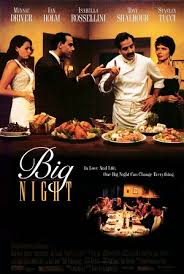 Gary and Paul reminisce about their splendid dinner the night before at friends Nancy and Arne's Big Night party. It was a recreation of the famous over-the-top dinner from the Stanley Tucci/Tony Shaloub 1996 film Big Night, complete with a heavenly appetizer course followed by the centerpiece of the evening, a homemade Timpano (or Timballo in some references). This was a night of laughter, sparkling conversation and sumptuous food. A truly Booth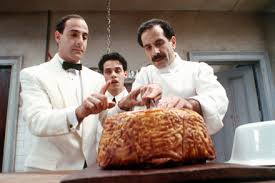 One experience, with an eclectic guest list in a gorgeous setting in our hosts' Chicago loft with great city views. If you want to try your hand at throwing your own Big Night dinner party, start by getting Lidia's Mastering the Art of Italian Cuisine cookbook or The Tucci Cookbook.  Here's a good recipe example for Timpano from the New York Times. Go to this link to see photos and a short video of the timpano presentation from our dinner party. Buon appetito!!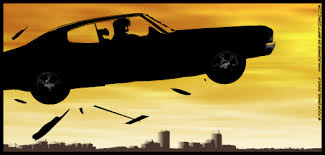 Gary revives his Good Times & Bum Times segment with two stories –
the "good time" of a Minnesota man who drove his car off an embankment, soared 210 feet over Lake L'Homme Dieu, and landed safely on the partially frozen surface; and the "bum time" of defense attorney Stephen Gutierrez whose pants caught on fire while he was defending an accused arsonist in court. You just can't make this stuff up!
The Hypocrites Theatre company, one of Booth One's favorites, is reorganizing under a fresh and bold new business model. They will pitch two plays to potential ticket buyers and ask them to commit to purchasing tickets to one or both. If interest hits critical financial mass, the show or shows will go on. If not, they won't. This is essentially crowdfunding, and gives the theatre patron a stake in the artistic choices that the Hypocrites will make. Both Gary and Paul applaud this innovative approach, taking a cue from independent film financing models. We wish Hypocrites the best of luck and can't wait to see how this all pans out for next season.
Kiss Of Death:
Robert Audy, who for forty years was one of the foremost teachers of tap dance and jazz in New York City.
Bob Audy sent a great number of students on to professional jobs in the theater where the skills they learned from him gave them the goods needed to succeed in the show business world. Mr. Audy shared his techniques and choreography with every major dance company in the US, taught workshops in Europe, and released several audio recordings as learning tools. His 1976 Tap Dancing for Beginners is featured on our program this week, with personal instruction from Bob on various tap steps and combinations. Audy taught many of the great dancers of Broadway and Hollywood to tap, including Shirley MacLaine, Joel Grey, Ben Vereen, Carol Lawrence, and yes, Booth One's very own Gary Zabinski back in the day! Gary once took a great class with Audy, though his skills have tarnished over the decades. Like so many fine teachers and choreographers, Robert Audy is sorely under-represented on the Web. So we thought we'd bring you a glimpse of one of the finest human beings and theater artists we know.