Guest co-ho

st Frank Tourangeau joins Gary in Booth One this week. Frank is a director, educator, speech coach, and all-around performing arts aficionado, whose knowledge of Chicago and New York theater is wide-ranging and insightful. I guess we should call him "Doctor" Tourangeau, as he holds a PhD in Speech and Performance Art from Southern Illinois University, and did his dissertation on the interactions of right brain/left brain as it relates to emotional cognition in performance. Wow. One of the smartest people we know!
Frank once coached our producer in high school speech competitions and relates a few stories about her performance piece and its reception at competitions. More here. Frank is retired now from his professorship at the College of DuPage in Wheaton, IL and spends much of his time supporting theater and film in and around the city of Chicago.
Gary does an Academy Awards recap by reviewing his picks along with those from Roscoe and Paul Stroili. Looks like Gary was the big winner with 6 out of 9 correct picks. Roscoe: 4. Paul: 3. Prize: $0.
Sally Field fares marginally well in reviews of The Glass Menagerie, but the production gets disappointing notices for its deconstructionist quality and unusual staging. We highlight the New York Daily News review as a representative example.
Frank and Gary romp through what's coming to the boards on Broadway and what's "in the works" for future seasons. Select upcoming openings: Come From Away, The Play That Goes Wrong, War Paint, The Little Foxes, Hello, Dolly! and A Doll's House Part 2(!). Scheduled for later – The Prince of Broadway; The Minutes by Tracy Letts; Bombshell, the Marilyn Monroe musical from Smash; The Cher Show; The Devil Wears Prada; Gypsy(again! this time starring Imelda Staunton); To Kill a Mockingbird (adapted by Aaron Sorkin); King Kong from Australia; and The Honeymooners starring Hank Azaria. Will all these come to fruition and make it on the Big White Way? Only time will tell.
We discuss the brilliant new film from Jordan Peele, Get Out, a semi-horror thriller with more than a few twists and turns. Both Frank and Gary like this picture immensely and try not to give too much away while discussing various scenes and plot points. There are elements of science fiction and some suspension of disbelief is required as the harrowing story hurtles its way forward. We encourage everyone to go see it! After you've seen it, read this excellent analysis in The Atlantic. Get Out was produced by friend of the show, Jason Blum. Congratulations, Jason and Blumhouse!
Pride Films and Plays, a new local producing organization whose mission is to change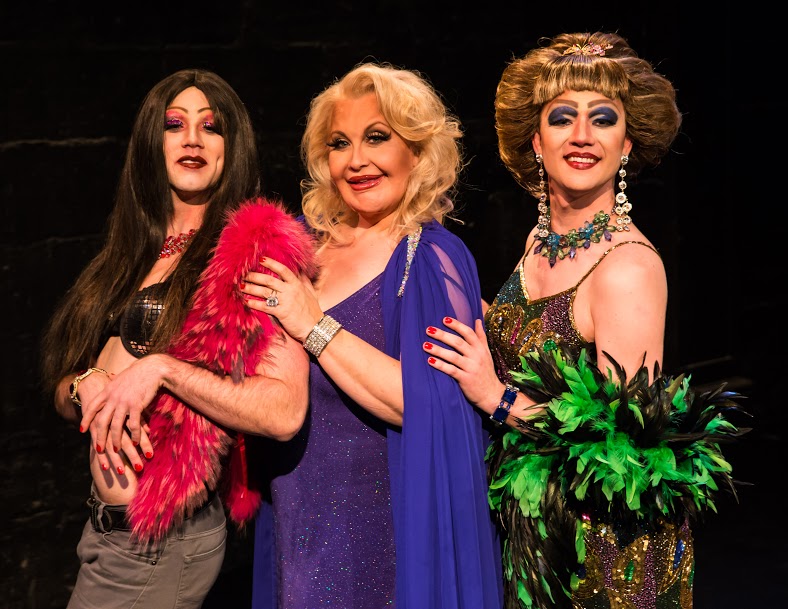 lives by creating diverse new work with LGBTQ+ characters or themes, has mounted a production of Priscilla: Queen of the Desert in a 99-seat theater with as many production elements as can be created in a small space. It features Chicago legend, Honey West! Read a great interview with her here. Sadly, this production will be closed by the time this episode of Booth One airs, but Frank describes the remarkable time he had at a recent viewing and what marvelous work PFP is doing as a young company.  Interested listeners should check out the Pride web site for upcoming theatrical and film presentations  of important new work.
"Never get out of the boat" is one of Gary's favorite mantras, and this story about Great White Sharks amassing off the coast of Cape Cod reinforces that sage advice. The Boston Globe article enumerates the shark population in this area at 147.
Of those predators, 89 are considered "new" sharks, meaning they have not been documented before, and that the population of these giant godless killing machines may be far more than previously estimated. Though the last fatal shark attack in Massachusetts was in 1936, Gary believes the odds are not in man's favor. Swim at your own risk would be a good sign for the beach above! How's that for "public education?"
Feinstein's/54 Below director of programming Jennifer Ashley Tepper has announced two concert stagings of one of the great flop shows in Broadway history. No,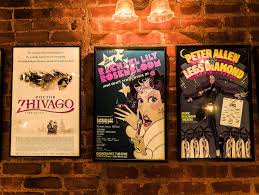 NOT Legs Diamond (Gary stage managed that production). This is Rachael Lily Rosembloom, a cautionary tale about a down-on-her-luck young woman who moves to Hollywood, where she leapfrogs from maid to gossip columnist to unlikely star. All does not go well. The original window card hangs in Joe Allen in New York right between Legs and Doctor Zhivago. (Update: These two concert stagings were done on Monday, March 13).
The series Feud: Bette and Joan continues on Sunday evenings on the FX Channel. Gary and Frank are big fans and appreciate that Susan Sarandon (Bette) and Jessica Lange (Joan) aren't trying to do impersonations or cheap impressions of these Hollywood legends. They truly appear to be making the characters their own. It's a tribute to

Ryan Murphy's talent and dedication to the material that the show tries to show us the real people behind the pubic images. Catch up on the first two episodes on the web and then tune in for more of this 10-part series on FX. Hugely entertaining and a great end-of-the-weekend distraction.
Kiss of Death:
Stanley Bard – Ran Chelsea Hotel as Bohemian Sanctuary
As the proprietor of the Chelsea, Stanley Bard rubbed elbows with a guest list that reads like a Who's Who of the New York art world: Dylan Thomas, Arthur Miller, Bob Dylan, Arthur C. Clarke, Stanley Kubrick, Leonard Cohen, Christo, Dee Dee Ramone, Joni Mitchell, Dennis Hopper, Madonna, Edie Sedgwick and Robert Mapplethorpe. The Chelsea was where Jack Kerouac wrote "On the Road" and where Bob Dylan wrote "Sad-Eyed Lady of the Lowlands." Mr. Bard lent long-term residents money and tolerated their overdue bills. He embraced their eccentricities and encouraged their cultural ambitions. You might owe him two months rent and you would cry to him and he would say, "Don't worry, keep painting, keep painting." The world needs more Stanleys. Read the full obituary here.