Gary wel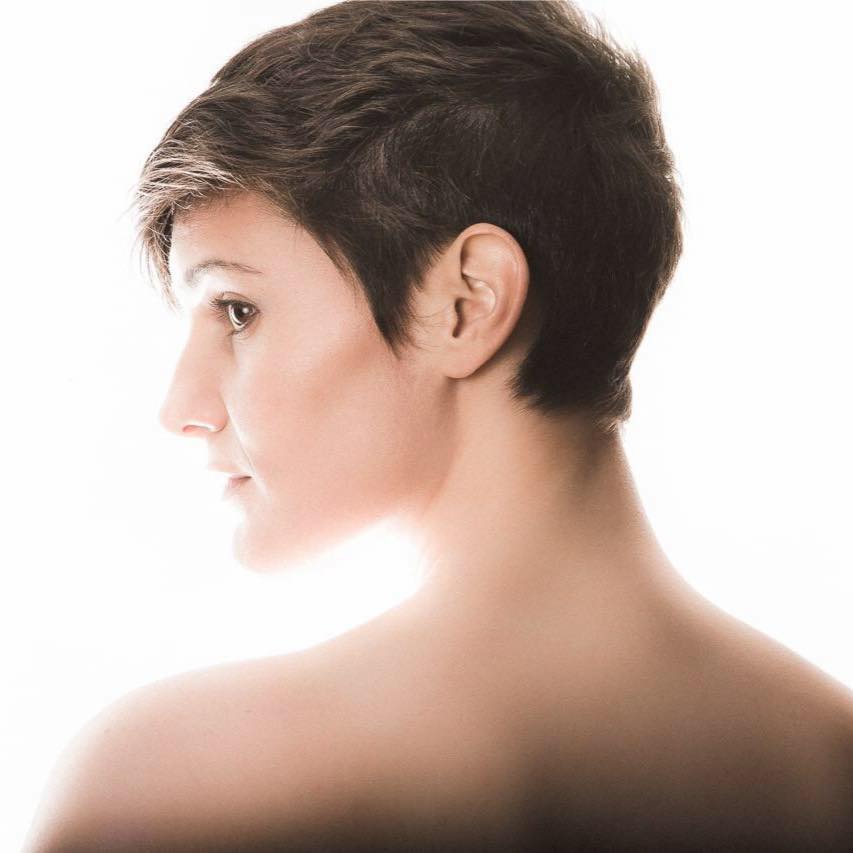 comes 4-time Jeff Award winner Danni Smith to the Booth this week, in a lively discussion of her career,  growing up in Indiana, her recent lauded performances in Jesus Christ, Superstar, Man of La Mancha, and the currently-running Mamma Mia at the Marriott Lincolnshire Theatre. Gary and Roscoe first encountered Danni at the Theo Ubique, where she was just marvelous in the role of Mary Magdalene. Not only was she a highlight of the show, she was also our table server at the intimate space. Oh, what fine actors do to make it in this business! Danni treasures the time she spent doing five shows at Theo Ubique. The "bolt of lightning" description is a quote from a Broadway World rave review of her performance in Man of La Mancha.
Ever s
ince playing a Munchkin in a grammar school performance of The Wizard of Oz, Danni has been smitten with the theatre. She attended Ball State University to study musical theatre. (Other Ball State alumni include David Letterman, Steadman Graham and John Schnatter, founder of Papa John's Pizza.) We chat about her inspirations, aspirations and dream roles. You can view a clip of Danni's performance in Mamma Mia here.
The latest news in our recurring watch of the world's elephant community is about the cold weather sweeping across northern India and threatening the health and well-being of these gentle mammals at the Wildlife SOS Elephant Conservation and Care Center.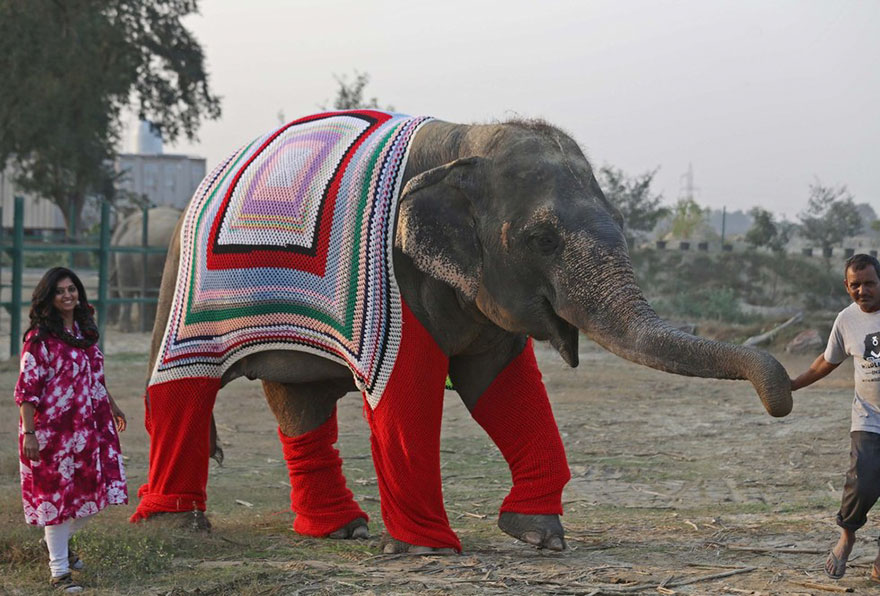 Big-hearted local villagers have begun knitting giant sweaters to keep the pachyderms warm. These colorful new duds take about 4 weeks to create. But it's well worth the effort to keep these animals happy and comfortable, especially considering all the hardships they've been through. Click here to see great photos of the locals knitting with the elephants and some of the finished products. You can knit your own sweater and send it to them! Learn about other ways to help at http://wildlifesos.org/donate-2-2/.
About a year ago, Danni co-founded, with Artistic Director Harmony France, a new Chicago theatre company called Firebrand Theatre, the first "equity feminist musical theatre company" committed to employing and empowering women by expanding opportunities on and off the stage. The inaugural season includes 9 to 5 The

Musical and Lizzie, a rock musical based on the true-life story of accused axe-murderess Lizzie Borden(!). Plus a kick-off benefit concert called Nothin' Like a Dame: A Celebration of Women in Musical Theatre. That February 27th performance featuring 28 singers was sold-out! Congratulations, Firebrand, and best of luck in your new exciting venture.
Gary gives a shout-out to the Goodman Theatre's production of Uncle Vanya, adapted by Annie Baker and directed by Artistic Director Robert Falls. This is one of the finest examples of ensemble acting we've seen in some time, and beautifully captures the humor and existential pathos of Chekhov's brilliant play.
Danni discusses her starring role in the independent feature Curtain, a horror thriller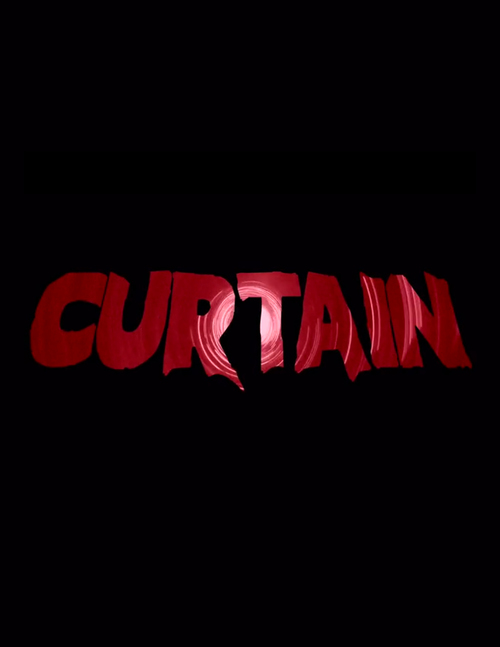 film from 2015, in which something sinister lurks behind the bathroom tiles in her shower, and things start to mysteriously disappear. Chaos ensues, of course.  You can also view the trailer here.
In Episode 52, we wondered aloud whether Glenn Close might be awarded a second Tony for her performance in the new revival of Sunset Boulevard. Thank you to loyal listener Robbie Young for writing to let us know that one cannot win twice for the same role, even in different productions. Yul Brynner's 1985 Tony was awarded as a "special" honor and not specifically for his reprise as The King in The King and I. Perhaps the same situation will come up again at this year's ceremony.
Most of the photos of Danni you see in these notes were taken during a portrait session with genius photographer Joe Mazza at Brave Lux. Gary and Roscoe have done a photo session with him and he is definitely a creative force to be reckoned with. Joe has a way of making you feel as though you are the most important subject he's ever photographed, thereby putting you at ease and in your best photogenic attitude. For your next photographic needs, whether for head shots, a wedding, special event or family portraits, Booth One highly recommends you get in touch with Joe at Brave Lux Studios.
We play a little Chat Pack with Danni and learn about her favorite entertainers, pet peeves and what aspirations she has outside of her life in the theater. As always, the answers are revealing, insightful and fascinating.
Kiss of Death:
Richard Schickel – Film Critic, Historian and Documentary Maker
Schickel estimated that he had seen 22,590 movies in a lifetime of sitting in the dark watching the play of light and shadow on the screen. He was a dedicated reviewer who saw great critical writing as "an elite enterprise, ideally undertaken by individuals who bring something to the party beyond their hasty, instinctive opinions." Mr. Schickel pulled no punches in his criticism, once writing, "The truth, very simply, is that most movies are lousy, or at best, routine." He contended that two measures of a movie's quality should be how much a viewer retains and how much one wants to see it again. Born in Milwaukee in 1933, he was smitten with the movies from the age of 5 after seeing Snow White and the Seven Dwarfs. Mr. Schickel was 84. Read the full NYTimes obituary here.