Gary and Roscoe wrap up 2016 – and good riddance to a challenging year – with an episode of year-end theater going and a few fun lists.
First we revisit Hamilton and our recent viewing of the new Chicago production. From our Booth One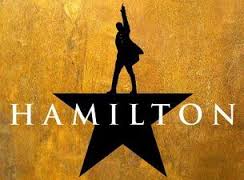 perspective in the 11th row at the PrivateBank Theatre, this sit-down company is hands down as dynamic, entertaining and exciting as the Broadway show we saw in New York in May. It's not just a traveling road company – the show's creators have put together a virtual replica of the Broadway smash and re-produced one of the great theatrical experiences of a lifetime. Yes, ticket prices are steep and seats are hard to come by, but it's worth every penny and effort to get into this show. Take the time to play the lottery. 'Nuf said….
Our first year-end list is President Obama's final Presidential Medal of Freedom recipients:
Alphabetically, they are Kareem Abdul-Jabaar, Ellen DeGeneres, Robert DeNiro, Bill and Melinda Gates, Frank Gehry, Tom Hanks, Michael Jordan, Maya Lin, Lorne Michaels, Newton Minow, Robert Redford, Diana Ross, Vin Scully, Bruce Springsteen, and Cicely Tyson. A special note is made about Newt Minow, close friend of our producer and a Chicago native, who famously referred to television as a "vast wasteland".
Audra McDonald's pregnancy was a surprise. But was it an accident, an illness or neither? We discuss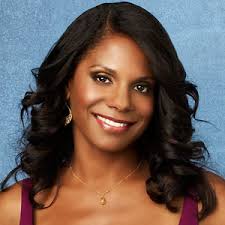 the lawsuit brought by the producers of the marvelous Shuffle Along, Or the Making of the Musical Sensation of 1921 and All That Followed against Lloyds of Lon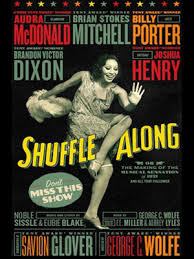 don, claiming damages of more than $12 million. Ms. McDonald's absence from the show for maternity leave prompted not only the show's early closing, but earlier health issues forced her to miss some preview performances. Ms. McDonald, who has won six Tony awards, was the show's biggest star. Lloyd's has denied the claims, arguing that the pregnancy "and the associated medical conditions were neither an 'accident' nor an 'illness'," criteria cited in the original $14 million insurance policy. Stand by for more on this unprecedented story…
Pray. Eat raw eggs. Stay single. Those are the keys to a long life, according to Emma Morano, the world's oldest person. Emma celebrated her 117th birthday this week, and is a national treasure in her native Italy, where her birthday celebration was broadcast on live state television. After the party, Morano took a well-deserved nap. God Bless, Emma.
Our next list is of Golden Globe Award nominees, as Gary puts Roscoe in the hot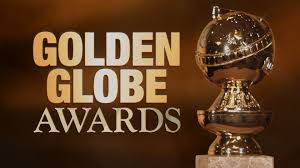 seat for predicting the winners of the January 8 ceremony. His picks: Manchester By the Sea and La La Land for Best Motion Pictures; Denzel, Natalie Portman, Emma Stone and Ryan Gosling in the Best Acting categories.
Continuing our movie musical theme, Gary tells about a new Marc Platt project based on the book "Everything's Coming Up Profits: The Golden Age of Industrial Musicals".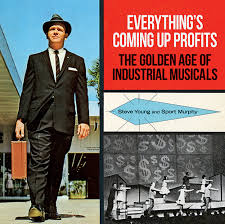 The source book focuses on corporate musicals made by the hundreds from the 1950s to the early 1980s by companies like Coca-Cola, Westinghouse and Chevrolet. Mostly played at business meetings and conventions, they were created by the top writing talent of the day, including Kander and Ebb. This original movie musical, featuring Kristen Wiig and Will Farrell, will have a score by Marc Shaiman and Scott Whitman of Harispray and Smash fame.
Back to our lists – the Library of Congress as announced 25 new films added to the National Film Registry, recognized in the National Film Preservation Board's view as "culturally, historically and aesthetically significant." The list includes:
Ball of Fire (1941)
The Birds (1963)
Blackboard Jungle (1955)
The Breakfast Club (1985)
East of Eden (1955)
Funny Girl (1968)
The Lion King (1994)
Lost Horizon (1937)
The Princess Bride (1987)
Steamboat Bill, Jr. (1928)
Thelma & Louise (1991)
20,000 Leagues Under the Sea (1916)
Who Framed Roger Rabbit (1988)
A clarification from our previous episode regarding the recent viewing of the play I Am My Own Wife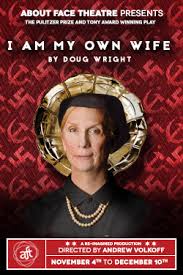 at About Face Theatre – transgender actress Delia Kropp first brought the idea of having this trans story told by a transgender artist, and by playing only Charlotte there would be no need for that actor to step back and forth over the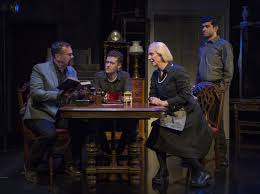 gender line. They approached playwright Doug Wright with the idea of using other actors for the variety of other roles in the show. He agreed, providing that no lines would be cut, altered or added. So the performance we witnessed was the complete and unadulterated original one-person show script expanded to include 3 additional actors. And by our account, it worked brilliantly. A unique concept deftly executed and beautifully acted. Many kudos to our friend Delia.
Our final stage viewing of the year was The Weir, produced by the Irish Theatre of Chicago at the Den Th
eatre. This beautifully written and performed mood piece is haunting, suspenseful and heart breaking, and features a stellar cast of Dan Waller, Sarah Wellington, Bradley Grant Smith, Jeff Christian and a remarkable portrayal by Brad Armacost. This fine play runs through January 22, 2017 and should not be missed by anyone who cares about the art of acting and the magic of words. Read a review here. (I have directed Dan Waller and he is an absolute joy to work with.)
Kiss of Death:
We look back at some of those we've lost in 2016, astonished by the broad spectrum of celebrities, luminaries and artists who passed this way only too briefly. Natalie Cole, Merle Haggard, David Bowie, Prince, Alan Rickman, Glenn Frey, Edward Albee, Umberto Eco, Nancy Reagan, Garry Shandling, Patty Duke, Muhammed Ali, Morley Safer, Gene Wilder, George Michael, Garry Marshall, Florence Henderson and Alan Thicke. And the year was not yet over when we recorded. Our KOD focuses on another recently passed celebrity:
Zsa Zsa Gabor, the Hungarian actress whose self-parodying glamour and revolving-door marriages to millionaires put a luster of American celebrity on a long but only modestly successful career in movies and television. "A girl must marry for love and keep on marrying until she finds it," Ms. Gabor once said. The second of three daughters – Magda and Eva her sisters – Zsa Zsa was raised for stardom in her native Budapest. She appeared in Moulin Rouge in 1952 and Lili in 1953, and played the gold-digging Minerva on the 1960s Batman series, whose mineral spa fleeced swells by extracting secrets from their brains. "Zsa Zsa's Complete Guide to Men" in 1969 was a best-seller. Ms. Gabor was 99. Read full L.A. Times obituary here.