Gary and Roscoe greet Au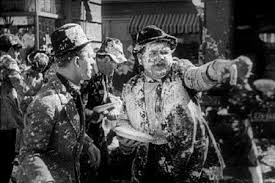 tumn in Chicago with anticipation and merriment. While discussing pie fights and pet peeves, Roscoe admits to being officially notified by the Library of Congress about misrepresenting the number of screenings of the newly restored and fully assembled 1927 Laurel and Hardy film The Battle of the Century. Seems he saw the third American screening at Cinecon, not the first. A minor quibble, but worthy of correction.
Gary's latest Sourpuss Smithers peeve concerns the use of the helper word "like". As in "Like he heard this woman on like the train using the word 'like' like as every third or fourth like word and couldn't like believe that a seemingly well-educated and like professional person would be caught like dead in a loud conversation in like public with such a debilitating like speech pattern. Like." We know this is not a new problem, but seriously?
The sharks are back in town in New Smyrna Beach, Florida with three attacks on surfers in one day! NSB is apparently known as the "shark attack capital of the world." Read more here to learn why. And keep your hands and feet inside the boat at all times.
We preview the new season on Broadway with a nod toward those shows closing (Something Rotten, The Humans, An American in Paris, Matilda, Fiddler on th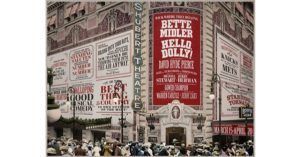 e Roof), and a look ahead to upcoming openings. Of particular interest is the revival (again!) of The Glass Menagerie, this time featuring Sally Field. Roscoe is flush wit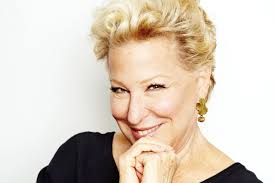 h excitement over this and predicts a Tony Award for the former Flying Nun. We like her! We really like her!! Even more exciting is the opening of Hello, Dolly! starring the great one herself, Bette Midler. And featuring David Hyde Pierce as Horace Vandergelder. The first revival in 22 years, this show broke the first day Broadway record for ticket sales, ringing in at $9,082,497! Word on the street has it that Carol Channing, 95, will be in attendance on Opening Night. Oh, to be in the audience that night…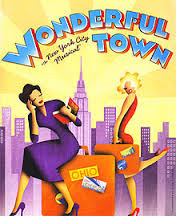 Roscoe gives us his thumbnail review of Wonderful Town, now playing at the Goodman Theatre, directed by the great Mary Zimmerman. "It's bright, colorful…with one show stopper after another after another", says Roscoe. 4 Stars out of 4.  Bri Sudia gives what Chris Jones in the Chicago Tribune calls a brilliant, career-making performance. High praise indeed.
You heard it here first on Booth One, folks – The People vs OJ Simpson was going to be BIG! A huge winner at this year's Emmy Awards., including Sarah Paulson as Marcia Clark and Courtney B. Vance as Johnny Cochran. Also, close friend Jay Martel appeared on stage as Executive Producer when Key and Peele won for Outstanding Variety Sketch Show. Nice photo in the NYTimes the next day, Jay! Way to go. Can't wait to have you on the program. See all the Emmy noms and winners here.
Something that we hope will become a recurring segment is Roscoe reading entries from his grandfather Roscoe's scrapbook of letters and reminiscences. Touching, human and revealing, we think you'll find this will become a popular Booth One entry.
Gary and Roscoe pay tribute to one of the great influential voices of the American theater, Edward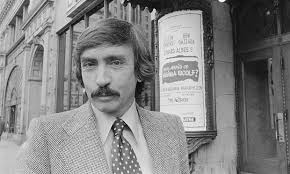 Albee, who passed away this September. The Zoo Story, A Delicate Balance and Who's Afraid of Virginia Woolf rank among his many masterpieces. Did you know that he came up with the title for Woolf after seeing it randomly scrawled in soap on a mirror in a downstairs bar in Greenwich Village?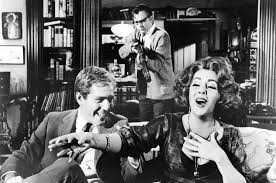 The film version starring Elizabeth Taylor and Richard Burton remains as one of the most indelible cinema experiences of our lifetimes. Read Bruce Weber's full obituary.
At our listener's request, Gary & Roscoe play a little Chat Pack. Learn what our hosts think about Stevie Nicks, Barbra Streisand, Dreamgirls, Ramon Novarro and Leni Riefenstahl!
Kiss of Death:
Charmian Carr, Played Liesl in The Sound of Music.
Only 21 at the time, Ms. Carr is perhaps best remembered for singing "Sixteen Going on Seventeen" in the 1965 pic. After TSOM, Ms. Carr's only other major Hollywood role was starring with Anthony Perkins in "Evening Primrose", a 1966 television musical with a score by Stephen Sondheim, in which she played a mysterious young woman who lived in a department store. She fully embraced audiences' reverence for The Sound of Music, frequently appearing at sing-along performances at the Hollywood Bowl. The daughter of a vaudeville actress and an orchestra leader, Ms. Carr thought people should consider sing-along 'Sound of Music' like "going to a therapist". Charmian Carr was 73. Full Obit here.