Gary and Roscoe are pleased and excited to welcome cabaret artist Beckie Menzie to Booth One this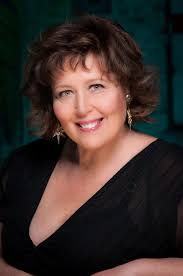 week. Beckie is an award-winning performer, teacher, song writer, musical director and vocal coach, a staple of th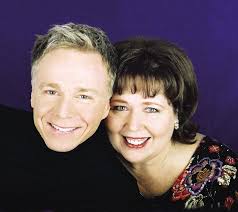 e Windy City music scene, and nationally recognized as one of the country's finest cabaret entertainers. Along with her musical partner Tom Michael, they have been called, "Sizzling…immensely appealing…one of the most compelling duos in cabaret today!"
Beckie is from Pierceton, IN, but a Chicago girl through and through. She learned piano at an early age and fell in love with music and the performing arts while hanging around the Wagon Wheel Theatre in Warsaw, IN. She has performed at some of the nation's top clubs, theaters, concert halls, outdoor venues, and cabaret rooms. She most recently appeared at Carnegie Hall and the Auditorium Theatre. We play a few song excerpts throughout the podcast to give you a taste of her talent, style and singular musical gifts.
Beckie and the boys chat about cabaret performers Michael Feinstein, Barbara Cook, Karen Mason, Sally Mayes, Julie Wilson, Bette Midler, Bernadette Peters, Marilyn Maye and Barbra Streisand. (Just to drop a few names!)
We discuss Laura Benanti's latest show at the Cafe Carlyle in New York and the stellar reviews she received.
Gary gives a shout out to the Therapy Players, Chicago's premier all-psychotherapist comedy improvisation troupe! Seems they're holding auditions looking for a few new recruits. If you or someone you love is mental health professional, check them out at www.therapyplayers.com.
In addition to performing steadily with Tom, Beckie is also a vocal coach and teacher, has recently become engaged, and sings with Laura Freeman & Marianne Murphy Orland in a group called Girls Like Us. They'll be performing their new show Barbra, Bette and Bernadette at Chicago's famed Davenport's nightclub on November 19 & 20. Go here for more info and tickets. Beckie's various musical ventures are part of her BeMe Music empire.

If you like The Golden Girls like we do, you'll LOVE the new action figures from Funko.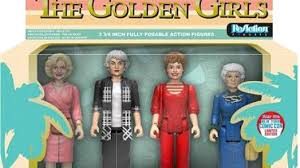 Retirees Dorothy, Blanche, Rose and Sophia are posable vinyl figures 3.75 inches tall and ready for action! The four-figure set costs $25 and is only available from participating Target stores and New York Comic Con. Run, don't walk, to your nearest Target for holiday shopping magic.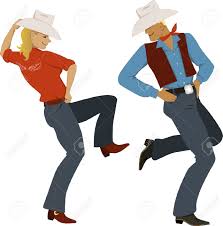 There's nothing like a country and western song title to bring a smile – and an occasional grimace – to your face. Gary cycles through the Best of the Worst Country-Western Song Titles of all time. Here's one – She Got the Gold Mine and I Got the Shaft. Beckie tells us about the country song she once wrote and one that she intends to.
Roscoe inquires whether anyone can be taught how to sing, in an apparent attempt to jump start a cabaret career of his own. Beckie responds as only a true vocal/performance coach can. Don't worry, folks. Roscoe and I are probably not leaving the Booth One podcast for vocalist fame and fortune anytime soon!
Chat Pack, anyone? We play a few rounds of our favorite conversational party game with Beckie.
Kiss of Death:
Jean Shepard, Female Country Voice with Muscle and Ambition.
A mainstay of the Grand Ole Opry for more than 60 years, Ms. Shepard blazed the Country Music trail for other female singers like Loretta Lynn, Patsy Cline and Tammy Wynette. She brought a freewheeling, cheeky style to the eternal themes of heartache, cheating and marital discord, planting the flag for independent women. In the early 1950's, Ms. Shepard had hits with "The Root of All Evil (Is a Man)", "Many Happy Hangovers to You" and "Twice the Lovin' (in Half the Time)". She was small but her voice was powerful, pure and penetrating. She was also an expert yodeler. Ms. Shepard was an ardent champion of traditional country music throughout her lifetime. She was 82. Read Obit.