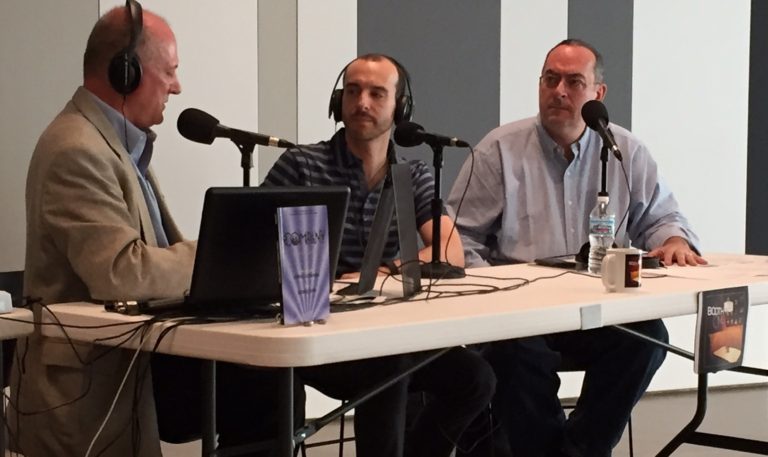 Roscoe ventures out on the town to bring us this lively episode of conversation about theatre, cabaret and Stephen Sondheim. We get his impressions of what's new and exciting, as well as a perspective on some old favorites. Then stay tuned for our live podcast from Writers Theatre and their Sunday Spotlight focused on Company! Photo at left shows us making the magic with a very smart and savvy audience.
First, Roscoe tells us about War Paint, the world premiere musical at the Goodman Theatre, starring Broadway veterans Patti LuPone and Christine Ebersole.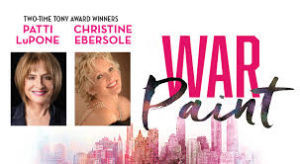 Written and directed by the creative team that brought the world Grey Gardens, this show tells the stories of Helena Rubinstein and Elizabeth Arden, who defined beauty standards for the first half of the 20th Century. Brilliant innovators with humble roots, both were masters of self-invention who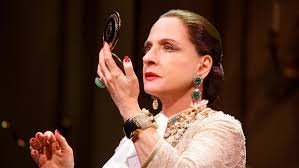 sacrificed everything to become the country's first major female entre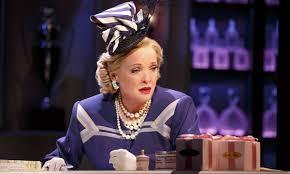 preneurs. They were also fierce competitors, whose 50-year tug-of-war would give birth to a major industry. From Fifth Avenue society to the halls of Congress, their rivalry was relentless and legendary—pushing both women to build international empires in a world dominated by men. Hear what Roscoe has to say about this new musical, as well as some reviewer comments from The New York Times, Chicago Tribune and Chicago Sun-Times. Read full NYT review here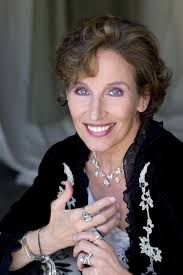 Next up, Roscoe fills us in on his cabaret experience seeing the legendary Andrea Marcovicci at Davenport's. With a career spanning four decades, Ms. Marcovicci is a Queen of the Cabaret, and an accomplished stage and film actress. At 67, does she still have what it takes to enthrall a room? Roscoe gives us his verdict…
We revisit the national tour of The Book of Mormon, now playing in Chicago at the ingloriously named Private Bank Theatre (we just call it the Shubert). After five years, how does this religious satire musical with book, lyrics, and music by Trey Parker, Robert Lopez, and Matt Stone hold up in this rapidly changing world of mores and tastes? Roscoe at Large shares his full theatregoing experience with you.
As an added bonus this week, we bring you an excerpt from a pre-show Sunday Spotlight live podcast recording Gary and Roscoe made at the new Writers Theatre. Our guest panelist is Stephen Schellhardt, Associate Producer and Casting Director for Writers. Our topic? Stephen Sondheim and the recent production of Company, now playing through August 7. Read more here. We have great fun in front of a roomful of well-informed theatre patrons, and you'll want to play along with our Sondheim Trivia game. Our thanks to Stephen and artistic director Michael Halberstam for inviting us to their Writers home for this Booth One presentation.
Our Kiss of Death segment this week profiles Betsy Bloomingdale, Socialite and Celebrated Hostess to Dignitaries and Royalty. The wife of the department store heir Alfred S. Bloomingdale, Betsy lived in palatial homes, shopped for $20,000 Paris couture gowns, attended the wedding of Prince Charles and Lady Diana, and dined regularly with Ronald and Nancy Reagan, becoming known as "the first friend of the first lady". She grew up surrounded by Hollywood royalty – Cary Grant, James Stewart, Merle Oberon – and lived in the exclusive Holmby Hills section of Los Angeles where her neighbors over the years were Barbara Stanwyck, Jack Benny, Bing Crosby, Frank Sinatra and Michael Jackson. She kept diaries of the lavish dinner parties she gave, and took photographs of table settings to avoid using the same one twice. Mrs. Bloomingdale was perennially on the list of the world's best-dressed women. She was 93 years old. Read full obit here.