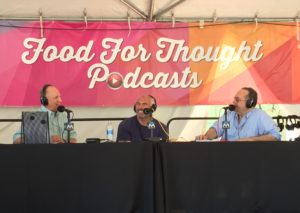 Recording live from the 2016 Taste of Chicago, Gary and Roscoe enjoy the elements and the sound of Buckingham Fountain while talking in depth with friend of the show, successful restaurateur Billy Lawless Jr. Billy's stable of establishments include The Gage web site, The Dawson web site, Acanto web site and the new Beacon Tavern web site. Days after this interview, Billy opened Coda Di Volpe on Southport. We got to go to the Friends and Family pre-opening and it is marvelous! Enjoy the photographs of these beautifully designed restaurants, then go see them in person!
We talk food, customer experience, service and location, location, location! Billy describes the thinking behind his restaurants' menus and wine lists and tells us about his great Beverage Director, Jon McDaniel. We talk about Ireland and the Brexit. And pork mac and cheese. Billy shares his keys to success, which would be helpful to owners of any business.
Billy's dad Billy Sr. emigrated from Galway, Ireland, 18 years ago and was immediately successful with his first Irish pub establishment in Lakeview. From there, the Lawless Restaurant Group has grown into one of the most excellent and  prominent hospitality organizations in Chicago. Do yourself a favor and visit one of these marvelous restaurants. And tell them Booth One sent you!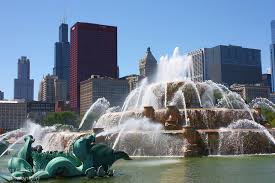 Did you know that Buckingham Fountain, clearly audible in the background of this episode, has 134 firing water jets and circulates 1.5 million of gallons of water? Recently, Atlas Obscura provided an opportunity for people to get a glimpse of how the complex plumbing and pumps work on their "Buckingham Fountain Underground Pump Room Tour".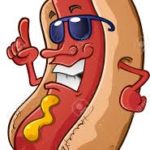 How many hot dogs do Americans consume between Memorial Day and Labor Day each year? 1 billion? 3 billion? Try 7 BILLION! That averages to about 818 per second! What's your contribution? Source: USA Today
Participate in this years' Le Diner En Blanc, where picnickers meet in a public location and dress all in white. The meeting location is kept secret until the day of the event and is available to paying guests only. This 5th Chicago edition is scheduled for August 12 and tickets are $37.50 plus an $8 membership fee. Register for the waiting list now and plan to purchase tickets on July 20. For more information, go to Chicago.dinerenblanc.info. And break out your summer whites!
Booth One gives one of its usual summer shout outs to the Grant Park Music Festival, the largest free classical music festival in the world. Though you might have missed their Cole Porter Celebration on July 8 & 9, there are still plenty of concerts to be heard before the end of the season in late August. Get yourself to Chicago and the magnificent Pritzker Pavilion in Millennium Park for an outstanding evening of music under the stars.
Our Kiss of Death celebration-of-a-life segment is Lorna Kelly, who "Left Sotheby's Rostrum to Help the Poor." An Upper East Side socialite who was one of the first female fine-art auctioneers in the world in the 1970's, Ms. Kelly grew discontent during the 1980's and felt a spiritual void. So she decamped, unbidden, for India and Mother Teresa, the first in a series of charitable endeavors that occupied her ever after. Ms. Kelly was 70. Read more of her inspirational story in Margalit Fox's NYTimes obituary. And check out her spiritual memoir, "In the Footsteps of the Camel" here.