Grammy-winning jazz vocalist Kurt Elling  sits down with Gary to discuss a broad range of topics.  With Roscoe at Cinecon, Gary flies solo in this one-on-one interview session. Learn more about Kurt in this bio from a recent concert and at KurtElling.com
Gary gives a little background on his friendship with Kurt. One highlight was when Kurt sang the first dance at Gary and Betsy's wedding reception almost 10 years ago. Gary requested the classic 1952 song, That's All,  written  by Allen Brandt & Bob Haymes. First sung by Nat King Cole in 1957, it has been covered by an amazing group of artists such as Frank Sinatra, Mel Torme and Judy Garland. See list.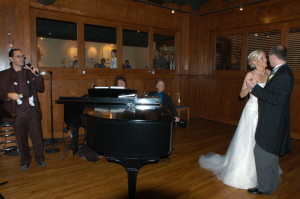 Here is Kurt singing with his then 3-week old daughter Luiza, accompanied by the magnificent Becky Menzie. (Beckie and Tom Michael also sang many favorites at our very musical reception.)
Thanks to our friend and audio engineer extraordinaire, John, we are lucky enough to have a recording from that day. Gary asked Kurt if we could share it on the show and he generously agreed. So look for his gorgeous rendition of That's All at the end of the episode! Not to be missed.
Kurt talks about his newest CD release Passion World, the inspirations behind the creation of the album and the sources of his song selections. Kurt's aim is to share some of the world's greatest sounds and greatest songs. He also wanted to involve musician friends who inspire him from all over the world, such as French accordionist, Richard Galliano. He talks about the unusual way this CD was recorded in various venues.
Gary says this is his all-time favorite Kurt Elling CD.  Learn More about Passion World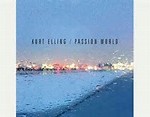 Kurt talks about his most favorite world destinations. He says that one of them, Holland "is a jazz country." He says he's considered to be very amusing by the Dutch. We think he's pretty funny too.  Check out the North Sea Jazz Festival in Holland
Kurt discusses his early training in theology and the role spirituality plays in his work. He gives us some fascinating background on the nature and history of Jazz, explaining how it is actually composition in real time. Read more about jazz here. He talks about scatting and the way improvisation works in Jazz.  Ella Fitgerald & Mel Torme scatting at the Grammy Awards.
We ask Kurt about his most memorable theatrical experiences, including a recent encounter with Broadway's Something Rotten, starring friend of the show, Brian D'Arcy James read more. 
Kurt reveals that he is at work on a theatre piece based on the life of legendary crooner – and later comedian – Joe E. Lewis read more, who was a fixture at Kurt's long-time home club, the Green Mill Cocktail Lounge Wiki Link.
This is a project we can't wait to see come to fruition! We will keep you posted on its progress.
We play a little Chat Pack and learn more about the man behind the music.
Gary invites Kurt to move back home to Chicago soon. They talk about his magnificent concert with the Grant Park Symphony Orchestra on August 12. He played to a capacity crowd in Millennium Park on a a perfect Chicago summer night.
Gary tells us about another of his favorite restaurants, The Gage, and our upcoming drawing for a $100 Gift Card. Sign up for our AList@booth-one.com for your chance to win. The drawing will be held on October 15 with the winner announced on our website.
Kiss of Death:
Frances Kroll Ring – Secretary to F. Scott Fitzgerald during his final years while writing The Last Tycoon.  Read the full obit from the L.A. Times