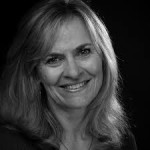 Our very special guest, Sylvia Hernandez-DiStasi, Co-Artistic Director & Co-Founder of the Actors Gymnasium and choreographer of the Lookingglass Theatre production of Moby Dick, stops by for an in-depth interview about circus, performance, training and flying! We are so excited to have Sylvia as our guest on the show today.
Gary and Roscoe have just seen the sensational Moby Dick, adapted and directed by David Catlin. Read one of the "through the roof" reviews here. Hedy Weiss.
Here are a couple of quotes from that review we couldn't agree with more: "Lookingglass Theatre's world premiere production of Moby Dick is a triumph of grand theatrical imagination, deep thought, superb acting and eye-popping, ingeniously deployed physical daring." AND "As a co-production with the Actors Gymnasium, it also is shot through with astonishingly original aerial choreography by Sylvia Hernandez-DiStasi, and its fearless, acrobatic cast brilliantly captures the grueling and perilous labor of life aboard a whaling ship."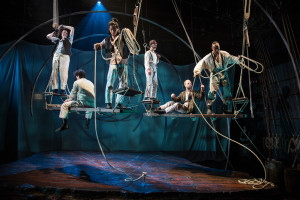 Such beautiful and imaginative story-telling. Gary ran into friends who were at the show with their two young children (maybe 7 and 8?). This is an intense story and ran for 2.5 hours, but these kids were spell-bound.
Sylvia's fabulous interview comes after a couple of brief opening segments.
Gary found a fascinating article in The Week entitled, "Do Sharks Like to Eat Humans?" Why some meals are better than others for these monsters of the deep.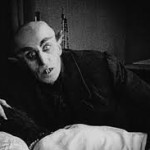 Legendary silent film director F.W. Murnau's skull has been stolen (not for the first time) from a cemetery outside Berlin. Gary and Roscoe discuss this senseless vandalism. Could it be the work of occultists? Ross, who is a bit of a silent film expert, tells us about Murnau's films, such as Nosfaratu and Sunrise (cited as one of the greatest films of all time). He  says The Last Laugh starring Emile Jannings would turn even the biggest skeptic into a silent movie fan. Among other innovations, Murnau introduced the subjective point of view camera. His 1928 film, 4 Devils, was set in a circus.  Read more.
Speaking of the circus, again, we are so happy to welcome Sylvia Hernandez-Distasi! Gary asks her to describe what it was like to tour with the professional circus and we hear about her adventures living on the train. She was a flyer for a teeter board act, landing on a chair resting on the shoulders of her four brothers. Sylvia told us about the various kinds of living quarters on the trains and said that walking through the circus train was like traveling through Europe.
We talked with her about the evolution of Moby Dick from the first workshop at University of Chicago with Blair Thomas and House, through David's production at Northwestern and at Lookingglass. She told us about David Catlin's amazing collaborative process and the specific ways her choreography and the staging changed based the strengths of different cast members in the three productions.
They talk about the dream/nightmare choreography featuring the amazing performances of Anthony Fleming III and Jamie Abelson. Gary describes "the dress" that becomes the sea. You really have to see it to believe it.
We learn more about the Actor's Gymnasium in Evanston, a place where actors can build physical skills to enhance their repetoire – as well as a thriving school for adults and children who want to learn circus arts. They offer all kinds of cool classes. Roscoe and our producer are considering "Circus Arts Fitness." Gary wants to write a show with Sylvia. We'll keep you posted. Check out Actors Gymnasium
Actor's Gym also develops their own productions. Winter Circus opens on February 13, 2016. Sylvia announces, for the first time on our show...that since it's the 20th anniversary of Actor's Gymnasium, she will be joining the cast of the show this year. Run don't walk.
By the way, "Learn to Fly" is the tagline for Actor's Gymnasium. It's a great one.
Kiss Of Death:
A profile of the great percussionist Vic Firth and the making of the modern American drumstick.