"Battling Bogarts" Gary and Roscoe discuss their recent thrilling Booth One experience with Stephen Sondheim.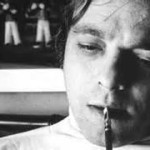 Huge thanks to Ed Uhlir for making that possible!
They talk about the Grant Park Music Festival's concerts on July 10 & 11,  A Sondheim Celebration, directed and conducted by long-time Sondheim collaborator and musical director, Paul Gemignani.
Paul included some gorgeous musical suites to highlight the artistry of the orchestrators and arrangers who collaborate with Sondheim. The show's orchestrators included Jonathan Tunick, Don Sebesky and Michael Serabin. Tunick is one of 12 people to have won all four major show business awards. His list of stage credits is staggering. Speaking of great Broadway credits, read about Don Sebesky's.  We also had the pleasure of hearing the work of Michael Starobin, who did the orchestration for Sunday in the Park with George. Read his bio.
These concerts were made possible by Perry & Marty Granoff and the Ted & Mary Jo Shen Gift Fund. Read about their "Musical Theatre Composers Initiative"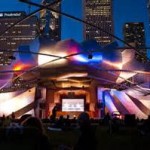 One of the songs on the program was from the movie Dick Tracy. See Madonna sing "Sooner or Later" on the Academy Awards.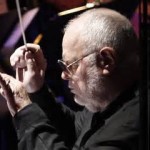 For the pre-concert event on Saturday night, Gary had the honor of being asked to interview Paul Gemignani along with special guest performers Elizabeth Stanley and Alex Gemingnani. Hear the interview on this episode.
A few highlights: Paul is eloquent talking about what it's been like to work with Stephen Sondheim since 1972; Alex tells us about hanging out with his dad and "Steve" while growing up; and Gary asks Elizabeth about playing the tuba in John Doyle's 2006 Tony award winning revival of Company.
We profile Acanto, one of Chicago's great eating establishments. It is outstanding and couldn't be closer to Millennium Park, the Art Institute and Chicago Symphony, just to name three of its neighbors.
Subscribe to our podcast & sign up for our e-mail A-list at www.TalkSportscast.com for a chance to win a $100 gift card to Acanto! Drawing will be held on August 15.

Kiss of Death:
Gary Mack, Kennedy assassination expert, dies at 68. Read full article.  Roscoe brings his expertise to bear in discussing the event and the subsequent investigation.