Gary and Roscoe welcome special guest Alpana Singh, owner/proprietor of The Boarding House and 7 Lions restaurants and master sommelier. Learn More
They discuss her restaurants, local food trends, wine, the James Beard Awards, Chicago tourism and running marathons.
Alpana talks about going out to eat with her mother and how from that experience, she fell in love with restaurants.
Gary plays "Stump the Sommelier" with Alpana, asking her to pair unusual foods available at Taste with the appropriate wine choice. She does a wonderful job!  Food Vendors
Kiss of Death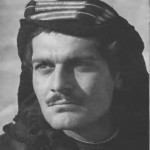 Omar Sharif, iconic leading man and film legend, passes into history.  Actor, raconteur, womanizer and bridge champion, Sharif lived life to the fullest. Full Story