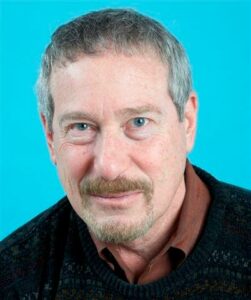 Jonathan Abarbanel, our first theatre critic guest, comes with great perspective not just as a theatre historian and scholar but also as an artist. He's been an actor, dramaturg, playwright, and producer, so he knows what it means and takes to bring work to the stage. He's the immediate past president of the American Theatre Critics Association. He's reviewed Chicago theatre for 50 years and continues as a great critic for the Windy City Times and Footlights magazine.
He and Kerry Reid are the "Dueling Critics" on The Arts Section on WDCB public radio. This marvelous and nuanced conversation about Isaac Gomez's play, La Ruta, is a great example of their collaboration and a chance to hear some longer form criticism from two real pros.
Frank tells us about his trip to the Dalmation Coast, including a visit to the "Museum of Broken Relationships" in Zagreb. Sounds like a must-see.
Jonathan was an early member of the off-loop theatre movement and was part of exciting and important developments like working with Del Close on the Harold.
He briefly worked as a copywriter and producer in advertising an came up with an iconic slogan "America spells cheese, K-R-A-F-T"!
Another claim t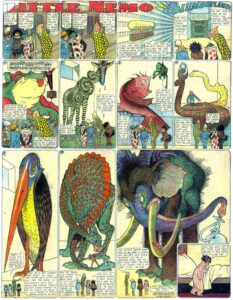 o fame was his appearance on the Antique Road Show with original artist boards of Winsor McCay's comic strip, "Little Nemo in Slumberland." Winsor invented animated cartoons with a character called "Gertie the Dinosaur". Jonathan was working summer stock and came across the boards in a barn. He offered to buy them from the property's owner who said just to take whatever he wanted…They were worth a lot of money when he went on the Road Show and are worth even more now. Picture here is one of the Little Nemo strips he owns, as it appeared in print in full color. Jonathan describes it as "a zoo on Mars and a Martian is showing Nemo and his gang around."
We asked Jonathan about his philosophy of criticism and he responded that he does not believe in attack criticism. And since his review space in the Windy City Times is usually only about 450 words, he doesn't have space to show off his "style." He'd rather spend 10 words writing about a costume or sound design than trying to show off his wit. He is very direct. To Jonathan, every single word sounds. Especially when writing about new work. About 50% of the shows produced in Chicago are new work. He will generally approach the script first, rather than the production elements or acting. The question is, "Does it work?" He talks about how consistently excellent most of the performances in Chicago theatre are right now.
Speaking of which, Gary, Frank, and Jonathan agree that the performances in Steppenwolf's production of the new play by Tina Landau and Tarell Alvin McCraney, Ms. Blakk for President, were just terrific!
Jonathan quotes the famous New Yorker critic, John Lahr's book title, Astonish Me, Adventures in Contemporary Theatre about what he's looking for when he walks into a theater. "Make me walk out full of the wonder of your production." He looks for that show that "just hits him in the guts." Sometimes he just "puts his pen down and lets it happen to him."