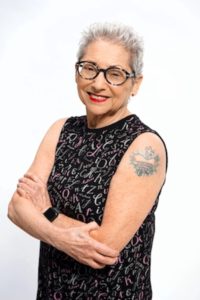 We were thrilled to welcome Elaine Soloway to the booth for episode 92! Check out her bio here. She is something else. Between her two memoirs, her Roman à clef, the essays she writes for her blogs, and having part of her life fictionalized on the television show, Transparent, Elaine is "living out loud." Learn about her books and essays by going to Elaine's website. Or friend her on Facebook. At 80 years old, she regularly communicates on social media and has 4,000 FB friends!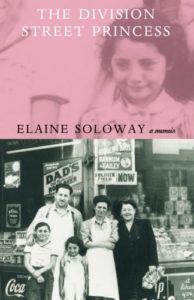 Elaine grew up on Division Street in Chicago. Her memoir about those years is called Division Street Princess. We highly recommend that and all of her books!
Elaine's "audacious" daughters are Jill and Faith Soloway, whose many remarkable accomplishments include creating the sensation called The Real Live Brady Bunch at Chicago's Annoyance Theatre. This project was a huge hit and wound up traveling the country with a first rate cast including Jane Lynch and Andy Richter. Check out this video rehearsal footage.
Faith is a musician & producer of rock operas. She regularly works as a collaborator with her sister, Jill, who wrote created the ground-breaking and award-winning show Transparent. The character of Maura was inspired by their father and Elaine calls Judith Light's wonderful character a "version" of herself. Jill Soloway's other credits include writing for the TV show Six Feet Under.
When Faith & Jill were growing up, their family lived in "South Commons" in Chicago for 10 years. The intention of this 30 acre community was to integrate people of different races, incomes, home styles, and ages. There was a K-3 school on the campus and a community center with tons of exciting activities. Elaine, who had been an unhappy housewife, was soon editor of the community paper and had started a musical theatre company. Her husband and daughters starred in some of those shows. Elaine thinks that community helped make her extraordinarily talented daughters who they are.
GZ & Frank review the movie Cold War and give it a big thumbs up.
Elaine tells us about a recent comedy pilot writing class she took at iO taught by Mike McCarthy.
Gary shares the sighting of Deep Blue, one of the largest great white sharks in the world. more than 20 feet long and 2.5 tons at age 50. Check out this amazing story.
Elaine appeared on Season 3, Episode 3 of Transparent and was fabulous. She talks about what a warm family the cast is and how much fun it is to be on the set. We ask about our favorite Chicago actors on the show, Alexandra Billings and Amy Landecker. She adores them. Season Five is going to be a 2-hour musical (!) and Elaine reports the entire cast can really sing. Faith is writing the music. To be released this year. We can't wait!
Kiss of Death: Francis Grill – Founder of Click Model Management.
Read the NYT obit by Rachel Felder here. Grill's story is remarkable. She founded the first inclusive modeling agency and the way she got her start is fascinating. Look up some of the images of models she represented.