Gary and Roscoe welcome to The Booth stage and film actor, director, writer and producer Paul Stroili,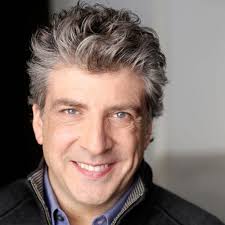 recently relocated back to Chicago from Los Angeles. Paul's wit, charm and remarkable storytelling make him one of our most hilarious guests to date. See Paul's full bio here. Paul previously co-hosted an entertainment talk radio show in Los Angeles called "State of the Arts" with Michael Sterling, and is pretty savvy behind the mic, as you'll hear. He tells about some of the iconic guests they had on the show, including Carol Channing, Russ Tamblyn and George Chakiris.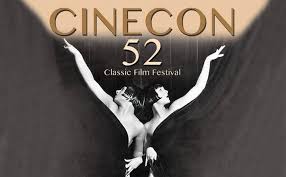 Roscoe takes us through his latest Cinecon Classic Film Festival adventures, seeing rarely or never-seen films in Hollywood in the course of 5 days over Labor Day weekend. From Carl Laemmle's King of Jazz, to vintage Spencer Tracy, to meeting legendary film actress Marsha Hunt, it sounds like Roscoe had another great year at Cinecon sitting in the dark with friends.
Paul's latest p
roject is a new production of the audience-interactive theatre piece Tony n' Tina's Wedding here in Chicago. Paul was in the original Chicago production back in the 90's. When the producers heard he was moving back, they tapped him to direct the remount. This time the ceremony will be held in a real church, and attendees will then make their way 2 blocks to the reception site. Paul says the cast is full of "brilliant improvisors who are also great actors." If you've never experienced Tony n' Tina's "special day", do yourself a favor and get a group together and go. And don't forget to bring a few dollar bills! This show is all about one of our favorite things: Audience Participation. The VIP experience includes ringside seats and surprises. We will be checking that out for sure.
We discuss film acting and screenwriting, and dig into The Beating, w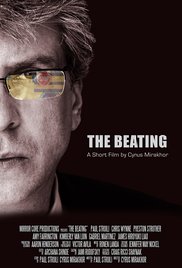 hich Paul wrote and stars in. This terrific short film is a nail-biting, intense drama with a twist. The Beating tells the story of the lengths to which one father will go to end a nightmarish problem of bullying at his son's school. The Beating premiered at the 2014 Sedona International Film Festival, as well as being an Official Selection at the San Diego Film Festival, the San Jose International Short Film Festival, The Bel Air Film Festival and The College Town Film Festival with screenings and lectures at Penn State and Ohio University. In addition, the script of the film has been used as an instructional tool at Columbia College in their course of study on short filmmaking. You can view the full film here, or by going to Paul's website at www.paulstroili.com. Go to the IMDb entry at this site.
Paul is working on development for a feature film he hopes to make this spring. The screenplay is an adaptation of a play called Wake, by Carey Crim. We can't wait to follow this story!
Gary asks Paul about his most prized possession – two theatre seats from Grauman's Chinese Theatre from the 1950's that he has restored to mint condition, including burgundy mohair reupholstering and a custom-made platform designed to the same rake specs as the theatre floor. His description of the process of restoring them is priceless. It's been said that "to visit Los Angeles and not see the Chinese Theatre is like visiting China and not seeing the Great Wall". Grauman's opulent, awe-inspiring presence and history has been a cornerstone of Hollywood for over 75 years. These seats were apparently installed in 1953 for the opening of Gentlemen Prefer Blondes, starring Marilyn Monroe and Jane Russell.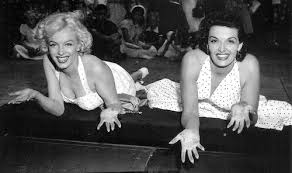 A photo of these magnificent treasures can be seen in our featured image this week.
Paul's one-man autobiographical show Straight Up With A Twist, in which he coined the term Renaissance Geek long before metrosexual became part of our lexicon, enjoyed over 1,400 performances nationwide, including a twice extended off-Broadway run. He was nominated for an Ovation Award for Best Solo Performance and an LA Weekly Award for this work. We ask Paul about his inspiration for the show and what his family is really like. If you need a good laugh and want to watch a true professional at work, take in this one-hour video of the show.
Kiss of Death:
Patrice Munsel, Metropolitan Opera Star and the youngest coloratura soprano to ever grace the stage of the Met. At 17, she walked into the "Metropolitan Auditions of the Air", the American Idol of its day, and in low-heeled shoes and white socks went into the electrifying "Mad Scene" from Lucia di Lammermoor. She was signed to a contract at once, thus sparking a career that spanned 65 years.
Her name spelled box office in opera, television, movies, concerts, legitimate theater and recordings. Ending her career as an opera singer in the 1950's, Munsel transitioned easily to musical comedy and operettas, wowing audiences across the world in musicals such as Kiss Me Kate, The King and I, A Little Night Music, Hello, Dolly! and The Sound of Music, in which she starred with her four children. Ms. Munsel had her own television variety show in 1957-1958, and appeared on countless other shows of the time such as The Tonight Show, Texaco Star Theater, Merv Griffin, What's My Line and I've Got a Secret. Patrice Munsel was 91. Read a full Opera News obit here. View TV footage of Ms. Munsel on You Tube.